Fallen London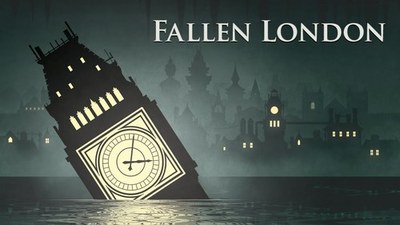 San Jose, California
February 23, 2018 2:10pm CST
Last night after dinner, we somehow got on the subject of Victorian-themed games, and I remembered one that I used to play often -- Fallen London. It's a browser based game in an alternative universe where the city of London has fallen into the Earth (apparently as part of a deal between Empress Victoria -- whose name is forbidden to be mentioned in this world -- and some demons in order to resurrect the recently deceased Prince Albert)... and seems to now be located in Hell. It's played in a "choose your own adventure" style and is a bit like a dark "Alice In Wonderland", or maybe a TS Eliot poem gone very, very wrong. You interact with the residents of the Neath (the large cavern beneath the earth where London now resides), some are other people from the surface, like you, and some are... well, not exactly human, not exactly alive, but not quite dead either. As you play the game, you uncover the mysteries of the Neath and the sentient Bazaar with the hooded and shrill Masters, which control all trade in the Neath. There's revolutionaries, the criminal underworld (even more underworld than usual!

), and Zailors on the Unterzee. And I'm still leaving so much out... it's a fascinating game. Have you ever played a game that you loved, but found difficult to describe?
EDITED TO ADD:
I should have posted a link to the game when I first wrote this!


A web-based game of exotic greed and villainy.
5 responses

• United States
23 Feb
I have never played this game, but I can see how a lot of people would be drawn to it.

• San Jose, California
23 Feb
I've been wanting to play it again lately. I wonder how many of my friends still do?

• United States
23 Feb
my games playing are done now.Used to play a lot back when??????

• San Jose, California
23 Feb
You don't even play card or board games now?

• United States
23 Feb

• Redlands, California
27 Feb
Sounds fun, why are they retiring it? I always like the way elder scrolls did video games. I want a game like that except can pretty much last forever. Open world but eventually they run out of stories.

• San Jose, California
27 Feb
They aren't retiring the game, just the app. It's pretty buggy.

• Denver, Colorado
27 Feb
Is it an online game, or did you buy it? It sounds kind of cool.

• San Jose, California
27 Feb
It's online. They had a phone app for a while, but it's being retired soon. I just started playing the game again. I forgot how much fun the storylets are!

• United States
25 Feb
It sounds like an interesting game.


• San Jose, California
25 Feb
It's a lot more interesting than I'm probably making it sound. The storylines get so intricate!