I'm Bummed I Won't Get to See Ghost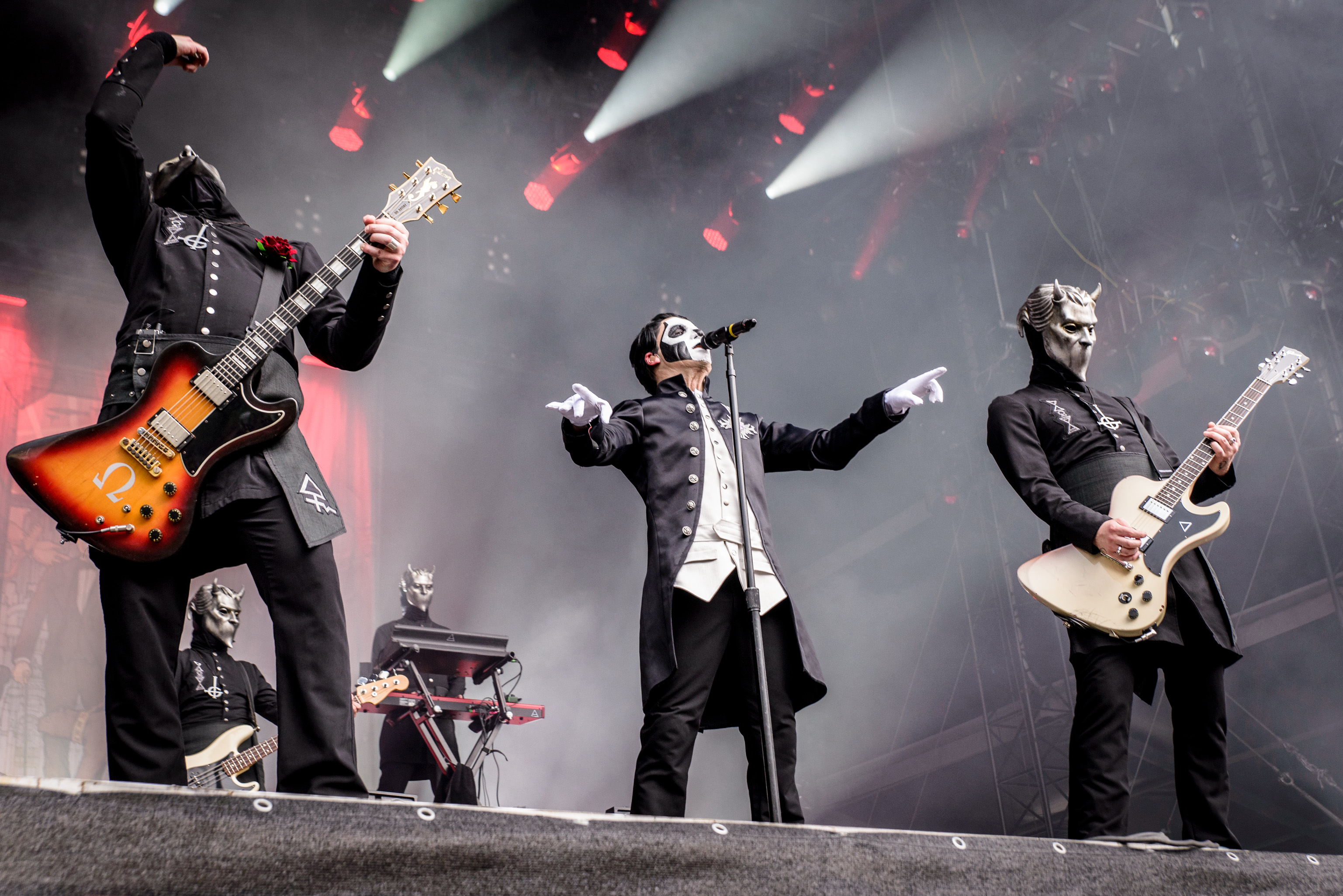 United States
February 28, 2018 8:24am CST
My favorite band is Ghost, a pop-black-metal band from Sweden that I've been following for the past 5 years. They just started hitting it big here in the U.S. over the past couple years, and they are always touring but I've never seen them in concert. The attitude among their fan base is that if you haven't seen them live, you aren't a "TRUE" fan. I was hoping they would come somewhere close by on their upcoming tour this year, since their new album is due to be released sometime this spring. They released tour dates yesterday, and there is only one stop in California, and it is in SoCal. I am bummed. I suppose they could add more dates to their tour, but chances are they won't come anywhere near me. Nobody ever does, and I don't have the means to travel to see a band, even one that's my favorite. I did that once when my sister and I flew to L.A. to see the Monkees after Davy Jones died, and it was very expensive. I guess I'll just have to keep watching videos of Ghost's live performances on YouTube, and listen to their live album. Which was recorded in San Francisco last year, but alas, even that is too far away for me to travel to. They did play a festival in Sacramento once a couple years ago, but ticket prices were outrageous so I didn't go. I couldn't justify spending $250 per ticket just for an 8 song set. And music festivals really aren't my scene. Anyway, what a letdown after anticipating catching them in concert this time around.
7 responses

• United States
28 Feb
I would love to travel around and see all the bands I wanna see.

• United States
1 Mar
I would love to, too. I have seen many of my older favorite bands, but they used to come to our amphitheater or at least play in Sacramento. Now our amphitheater only books country acts or young pop stars. No more rock bands like KISS, Fleetwood Mac, or Aerosmith.



• United States
2 Mar
@Srbageldog
He was one that I had always dreamed of going to see, love his music. I have basically realized I will never get to see anyone so I just enjoy the music at least.

• United States
2 Mar
@Ithink
I'm sorry you didn't get to see him. I have been lucky about seeing most of the older artists that I love, but that was when I was younger and tickets were not as outrageously priced. I am actually surprised I got to see so many of the artists that I love, including Paul McCartney, who I never in a million years thought I would get to see. The last few times he played in Sacramento I had to miss him, though, because I couldn't afford tickets. They were cheaper 13 years ago. I don't think that not seeing artists in concert makes anyone less of a fan, though. I hate that some people have that attitude. If you love the music, that's all that matters.

• United States
3 Mar
@Srbageldog
And I do, yes I have looked at prices and was like what!? That can buy our groceries for a few months!



• United States
1 Mar
Oh, I love the movie "Ghost"! That was my favorite movie when I was about 9 years old. Hopefully Ghost (the band) will add more dates to their tour and one will be closer. Most of their dates seem to be in the Midwest or on the East Coast.

• Switzerland
1 Mar
@Srbageldog
May be they will add more dates and you will finally be able to see them.

• United States
1 Mar
@LadyDuck
I hope so. I have my fingers crossed.


•
28 Feb
It is cheaper to watch online than go to the concert itself. I understand being there right with them is very exciting. Maybe one day they will come your way.

• United States
1 Mar
I really hope so. I have seen just about all of my favorite bands except for them. You are right about it being cheaper to watch their performances online! Plus you don't have to deal with being crammed in a stadium with a bunch of annoying people.

•
1 Mar
@Srbageldog
Not having to deal with crowds. I know it is not the same as actually being there but the pros are good to watching online I feel Stacy.

• United States
1 Mar
@Hannihar
Yes, but at least once I would like to attend a live show. Then I will happily stick to watching them online from the comfort of my home.



• Philippines
2 Mar
Not knowing anything of your favorite rock band I decided to watch some of their you tube videos. there seems to be a religious undertone running in their music. I did like the song "Crucified". Are they a Goth band? I was also a Davey Jones and Monkees fan. I watch TV series when I was a teenager. Was not aware Davey Jones passed away.

• United States
1 Mar
i'm telling ace on you

i haven't seen them live either..i've never seen them as listed around here. but after the station happened,a lot of bands are skipping the state over.


• United States
1 Mar
I've never seen Ace in concert either...but have seen KISS twice, once with Peter, the other time with Eric. KISS is still up there as one of my favorite bands.

That sucks that bands are skipping your state. A lot of bands never even come up to NorCal...they'll play San Francisco and that's the closest they'll come. California's a huge state, so unless they come to Sacramento or the amphitheater outside of Marysville, I never get to see anyone. Come to think of it, I haven't been to a concert in about 6 years.


• United States
28 Feb
So sorry you will not be able to attend this performance. Hopefully, one day, you will.

• United States
1 Mar
Thank you, I sure hope so. I have seen all my other favorite bands, so they are the last on the list.