A great wish for birthday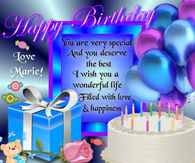 March 4, 2018 4:56am CST
There are people that makes wishes for there birthday because for them it is very great and especial and they really believe that it might come true. Have you ever experienced wishing on your birthday? What would be your great wishes for the coming birthdays in your life?
2 responses


•
4 Mar
Well that is great, me too I really don't celebrate my birthday and I am just wishing for a good health.

•
12 Mar
I have blown on candles to make wishes but I do not have candles anymore to wish so I just celebrate my birthday.