California's lovely Live Live Oak Trees

Walnut Creek, California
March 8, 2018 6:33pm CST
We have many different kids of Live Oak trees in California. Some keep their leaves all year around. Some shed their leaves. Many harbor ticks, which like to drop onto you and suck your blood. All are pretty, and can survive on less water than the oak trees of the Midwest. One of my favorite oak trees is the Live Live Oak tree, shown here. It can be found on virtually all hikes in California. What I love about Live Live Oak trees is their visual symmetry. Plus the fact that they are connected to each other. As with many redwood trees (for which California is famous), Live Live Oak trees are often actually a single organism, connected by incredible above-ground root systems. Birds are advised not to perch on these trees when the weather has been wet, for reasons which I'll leave it up to you to consider. The same recent hike that yielded photos of a nice sunset to the West, green hills to the East, and some pretty flowers that I can't identify, also yielded this lovely photo of a strong and symmetrical Live Live Oak tree. I hope you appreciate its beauty.
10 responses

• El Paso, Texas
9 Mar
I izz cornfuzed, all I seez is a power tower then you mention ticks ( I hate ticks ) and I fliger ain't no tick climin up a power tower so where's dat Live Live Oak Tree??

• Redlands, California
9 Mar
Its an oak tree see the leaves hanging down. How you know its an oak tree.


• El Paso, Texas
9 Mar


• Anniston, Alabama
9 Mar

• Redlands, California
9 Mar
No, that's an Oak Tree. This just what happens when Trump becomes president. Trump says that is an oak tree.


• Anniston, Alabama
9 Mar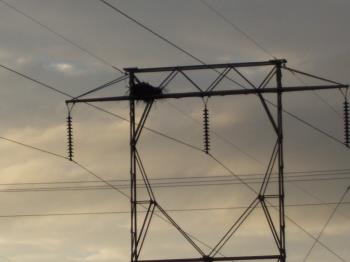 • United States
9 Mar
Such a lovely sight to see in nature. The symmetry is superb.

• San Jose, California
9 Mar
A few years ago, a pigeon learned what can happen if one perches on one of those trees, and it set an entire hillside on fire. Sadly, the pigeon did not survive the lesson. If I can find the news article, I'll link it.

• San Jose, California
9 Mar
@TheHorse
From what I recall, there was no rain involved. It was in the summer, and you know how dry it gets around here during that time of the year. I found the article.

Investigators said a four-alarm brush fire in San Jose, Calif., may have been caused by a pigeon perched on a high-voltage power line.

• Walnut Creek, California
20 Mar
@spiderdust
Funny story. Dang pigeons shuld have kept their distance up there.


• Los Angeles, California
9 Mar
I am familiar with our oak trees.

• Green Bay, Wisconsin
10 Mar
You have a wonderful sense of humor.




• Denver, Colorado
20 Mar
You'd have a hell of a time chopping that particular tree down for firewood!

• Eugene, Oregon
9 Mar
A blight on the landscape.