Do you look at moon or have seen a moon of fullmoon?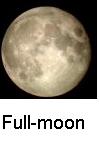 United States
November 27, 2006 5:21pm CST
I look when fullmoon come every month and enjoy its smooth light.
3 responses


• Virgin Islands (U.S.)
31 Jan 07
i always look
@
the full moo i would go out on my porch and just hear the beautiful music that nature makes with the water hitting against the rocks and watch the full moon and the clouds past by from about 6 to like 12

• Sri Lanka
26 Dec 06
From Sri Lanka, a country almost on the Equator, we see the full moon everymonth. It is in fact a national holiday, as the buddhists consider it a holy day. If it is not cloudy the moon will shine in its splendour and give enough light to get about. Some times I use the binoculars to look at the moon. Then you easily see the contours which might be cratera and vallys. And once in a way if I am lucky I see the Rabbit on the Moon wagging its tail.