What is your favourite movie quote ?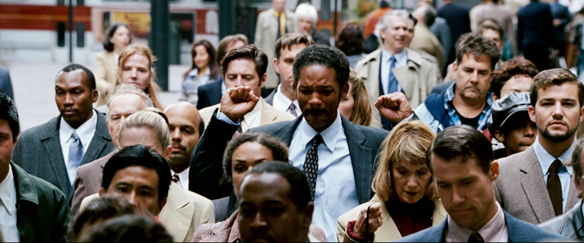 Tunisia
March 27, 2018 4:01am CST
My favourite movie quote is 'I still remember that moment ...They all looked so damn happy to me. And, I couldn't stop to ask myself, wondering ... Why couldn't I look like that ?' from the Pursuit of Happiness. The reason why I like this quote is because I've been suffering from extreme depression since 2013. Every day, I wake up trying to develop a good attitude but some things are just too hard to handle. All I wish for is that one day I would walk down the streets just like Chris Gardner when he finally realized his dream of being a stock broker and in that moment my favourite quote will be 'This part of my life… this little part … is called happiness'. Source : thoughtcatalog.com
10 responses


• Manila, Philippines
27 Mar
Hello. I have not watched that movie but I know the storyline is about being able to rise above every situation and not giving up in what you believe in. If there is one quote I will never ever forget, it is in the movie, " A Very Special Love" (John Lloyd Cruz and Sarah Geronimo). This quote came from the father of John Lloyd: "(Being good) It's not the easiest, but that is probably the best legacy that a person can leave behind: to always believe in goodness and just be a good man." I think that says it all.


• Manila, Philippines
27 Mar
@august18
thank you for the compliment. and youre most welcome.


• Nairobi, Kenya
27 Mar
I loved that movie which he made with his son and together with 'seven seconds' are one of my favorite.

• Los Angeles, California
27 Mar
"I coulda been a contender...." from "On the Waterfront"


• Daytona Beach, Florida
1 Apr
One more time remembered more all time favorite from the classic movie Casablanca "Of all the gin joints in the world she had to walk into mine" and in my younger days, there have been times when I have been having a good time and then suddenly see someone I really didn't want to see again. The second quote from this movie is the ever popular "Here's looking at you kid" when the lovers say goodbye at the end and in my life there have been many special goodbyes.

• Tunisia
1 Apr
It happens to me quiet often. I see someone and remember a song or a movie quote. There is this girl who was once my best friend. Sometimes I would scroll through her Facebook account and sing to my self 'and maybe someday we will meet, and maybe talk and not just speak' hoping one day we will get back together again.

• Haldwani, India
29 Mar
I don't have any favourite movie quote but my favourite quote is Be You

• Waikoloa, Hawaii
21 Apr
today is my revenge! get back from terminator

• Daytona Beach, Florida
1 Apr
There are quite a few movie quotes that I like but of course too many movies I prefer to remember all. One does stay in my mind and that is by Better Davis one of my favorite actresses when she played in the movie All About Eve and the quote is "Fasten your seatbelts it's going to be a bumpy night" she was referring to a party she was having and noting was going right. I always mutter that line when things do not go right for me.