Lovely day!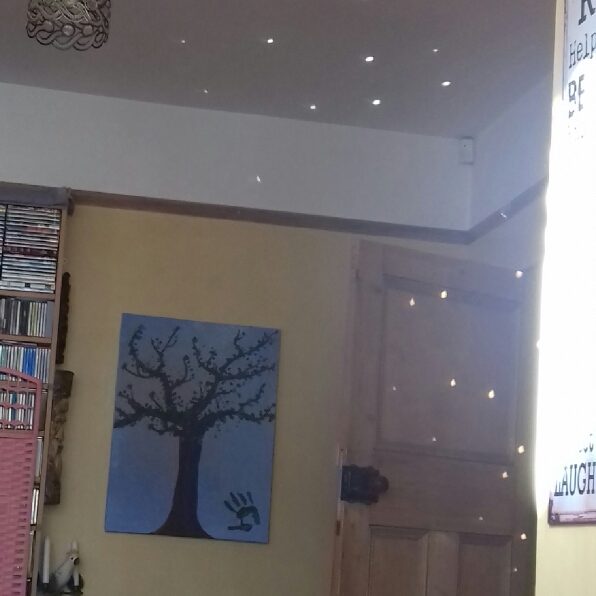 United Kingdom
April 5, 2018 3:27am CST
Finally the sun's back out! I'm having an extremely lazy day today because the family's back tomorrow so this is the last day of my holiday, but I'll be taking Treacle out for a couple of walks and sorting the chickens out so I'm so glad to see a clear blue sky

The light's shining through the patio doors and creating a lovely display on the wall - you can't tell from the photo but each spot of light is rainbow coloured

I can't work out what's creating it but as I write this it's already completely disappeared so I suppose I'll never find out

I'm waiting for a delivery, it's now nearly 9.30am and it could arrive any time up until 9pm so I'm sort of stuck til it gets here. Yodel are supposed to get in touch and give me a smaller window but I haven't heard from them and I haven't got a tracking number. It's a good excuse to stay in and carry on being lazy though

9 responses

• Hong Kong
5 Apr
@LilyBeBack
I'm glad that you are having a lovely day my friend.


• United Kingdom
5 Apr
I'll have to get dressed soon but I'm trying to stretch the morning out


• Hong Kong
5 Apr
@LilyBeBack
Alright my friend and I'll see you later on my friend.




• Canada
5 Apr
This morning the sun is shining. This actually makes me feel more energized and ready to get on with my day. I'm waiting for someone to come to pick up the planter boxes I sold yesterday.

• Thailand
5 Apr
Good to have sun, now I understand what "heat", "sun" means to people who live in cold places.


• Manila, Philippines
5 Apr
Hello Me. Sunshine, where have you been? Seems like the sun decided to show himself today. By the way, who made the tree painting?


• Baguio, Philippines
5 Apr
Have a great day too my friend. God bless you