Are You Judgemental?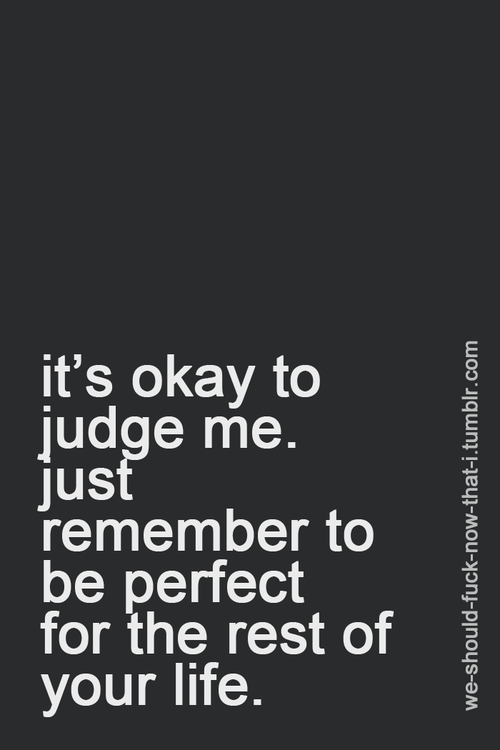 April 8, 2018 10:25am CST
It seems today everyone has an opinion and outlets to express it. Why have people become so judgemental today? One cause are social outlets. Social media provides ways to express one's view. Forums, Web sites, Paid Survey sites, Blogs, call in radio and TV programs, facebook, and even one's e-mail all provide a person a platform to speak their minds. Perhaps we need some ways to be less judgemental. Here are some tips I found and added to from NJ 101.5's website. 1. Try to catch yourself- Pause, think, and maybe rephrase your comment in a more helpful and positive way. 2. Try not to personalize disagreements - We don't always see all things the same way. There are two sides to an argument. You don't have to agree but respect the person's right to have that opinion and don't respond with an arrogant or nasty remark. 3. Try to find something good in other people- Maybe their is a reason behind their behavior. Find something in the person which might be praiseworthy, although in certain individuals you might have to dig deep to discover it. 4. Try to give the person the benefit of the doubt- Don't jump to assumptions. Again, there may be a reason for their actions or maybe they just made a mistake. After all, people make mistakes. 5. Try to compare their behavior with your own- Maybe we judge others behaviors on something were also guilty of doing. In closing, if you go through this list of suggestions and still need to criticize, condemn, complain, and verbally bash that person then have at it! (No, No....just kidding) That would indeed be a misguided approach to life. Source- NJ 101.5 Photo- pinterest
8 responses

• Bunbury, Australia
8 Apr
Good advice. It is easy to be judgemental but sometimes we don't know the back story to someone's opinion or behaviour.

•
11 Apr
Yes, some are quick to condemn or criticize instead of putting themselves in the other's place. I have been guilty of that one.

• India
8 Apr
It is not always that way. Sometimes, not judging others can cause us to enter into big trap. Would you not be judgmental if somebody killed your family member? Would you not condemn such a person and prevent entry into your home? What about somebody who molested your child? Would you not be judgmental in such a case? I think we all have to be to some extent if we need to be safe.

•
11 Apr
Well stated! In in those serious instances I agree. In more petty ones, being judgmental may lead to more harm than good.

• Baguio, Philippines
8 Apr
No dear friend. I am not a judgemental person because I also don't want other people judge me..

• Baguio, Philippines
11 Apr

• Manila, Philippines
8 Apr
Hmmm... I will talk to myself about not being judgmental.


•
11 Apr
It can be difficult to withhold judgement sometimes...

• Manila, Philippines
12 Apr
@dgobucks226
that is true. Besides we are only human. I will be a hypocrite if I say I dont.


• India
5 Jul
Ummm I certainly try not to be. And certainly do not voice them. But I am striving to be nonjudgmental in my thoughts too...That's when I'll think I've arrived. It's rather complicated,really so I'll give this up. Actually I am searching for your girls' names song discussions. I discovered your posts rather late

•
6 Jul
I enjoy reading responses to any of my discussions ARM. Trying to stay non-judgmental is a difficult undertaking. Not voicing them is a mature step in the right direction...


• Boise, Idaho
8 Apr
All good items to think about. I am judgemental at times.

• India
8 Apr
We all have become judgemental. There will be some instances where this is seen as good thing and other times when this will be seen as bad or inappropriate. Our ego mind labels things on the basis of their perceived impact on another's survival. As such, when we feel that we're confronted with some kind of threat in some way, we make a judgement.

•
11 Apr
That is a very interesting viewpoint for being judgmental. I appreciate the input!