I'm just gonna sit here with my coffee for a bit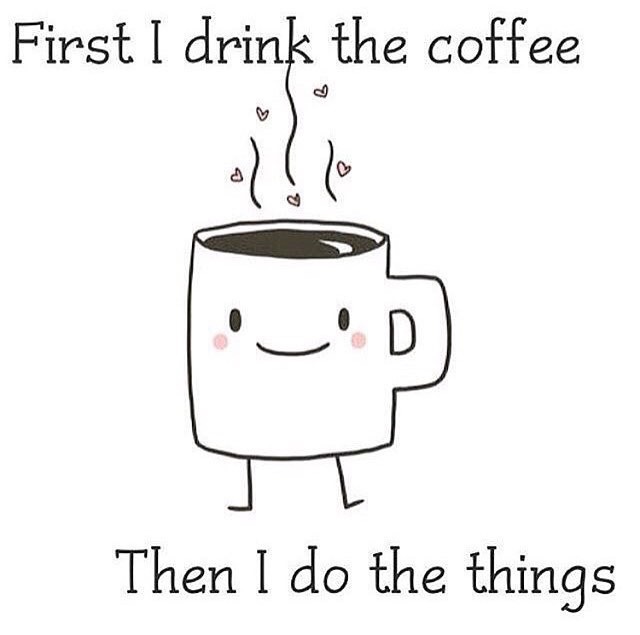 San Jose, California
April 12, 2018 12:49pm CST
The above cartoon looks perkier than I feel, but we'll go with it anyway. This week I was supposed to be in Arizona, visiting my mother in law and introducing her newest grandchild to her for the first time. We even had a day planned to go to the zoo. But that's not how this week has been after all. Instead the other half's week off has been spent driving back and forth between two different school districts an hour apart from each other, visiting new schools, purging rooms of stuff, dealing with court paperwork, and errand, after errand, after errand. We're all exhausted, and he goes back to work on Saturday. It feels like I've barely seen him. We've been fighting a little, which I guess is understandable given the stress. We're trying to not do it in front of the kids much and are managing to work through that, but there have been some hurt feelings and frustrations and moments of both of us feeling unappreciated. I think we're going to continue to be okay, but I can see how this kind of thing can really take a toll on relationships. I'm worried about how much our grocery budget has skyrocketed. I'm usually pretty good with stretching our food dollars, but now we're going through a gallon of milk daily and I don't have room in our fridge to store more than a gallon at a time right now. I'm hoping as we eat everything in the fridge and freezer, that maybe the grocery budget is stretching further than I'm realizing. I just realized I have 5 school lunches to pack on Monday, and I don't have enough lunchboxes. I need to see if there are any left at the thrift stores before I hit Target. I'm a bit frustrated because we bought all of the stepkids new lunchboxes in August, but it's not their fault that they don't have them now (actually the youngest stepson did bring his with him, as it's attached to his backpack, but the other two are missing theirs). Speaking on Monday, *that's* going to be an interesting morning, as the other half will be at work at 5am and the kids all have schools in different directions. The youngest stepson is getting placed in an elementary school at the outer edge of our district (although he'll be able to go to our local school in the fall). There may be bussing available for him, but we won't know for a few days and it might take a while to kick in. I think I've rambled on long enough, as my coffee cup is nearly empty and what's left inside has gone cold. Time to start doing the things.
10 responses

• United States
12 Apr
Not sure what to say here.This is pretty tough for you to put up with this.

• San Jose, California
12 Apr
I don't think I can do things any differently than I'm doing right now, and it will be easier once they're attending school.

• United States
12 Apr
@spiderdust
you are a strong woman to put up with this.

• Daytona Beach, Florida
12 Apr
Hope you get it all worked out. Enjoy the rest of your day. Mine is drawing to a close.

• San Jose, California
12 Apr
It'll work out. It's slowly working out, it's just exhausting.


• San Jose, California
13 Apr
In a nutshell, the mother of my 3 stepchildren recently abandoned her duties. You can read more about that in some back posts.

• United States
12 Apr
The fighting to me, is understandable; because of all the stress you guys are under right now. But I do hope it doesn't hurt your relationship. Also hope the food issue doesn't turn too bad.. Any chance you guys can go to a food pantry, now that you have more people to feed?

• San Jose, California
12 Apr
I think we'll survive the fighting, and it fortunately isn't happening often. I think if it becomes necessary, we'd go to a food bank, but it isn't necessary right now. My freezer is pretty full and I intend to use everything in it until it's empty. I just might have to buy a gallon of milk every single day.

• United States
12 Apr
@spiderdust
I hope you do. And its good its not often. We had two gallons of milk in the house every day, as I myself drank a whole one each day. Its good you don't need to right now, goodluck

• Canada
12 Apr
Can you not enrol the children in a school in your district? That might relieve some of the stress around that.


• San Jose, California
13 Apr
Yes, we can, and have. We still needed to get their records from the other school district.

• Prairieville, Louisiana
23 Apr
I drink a lot of coffee in the winter time when the weather is cold.

• Prairieville, Louisiana
23 Apr
Coffee has zero calories but creme has calories or half n half.

• United States
12 Apr
Life can be trying and I think we all go through rough patches of course. I think looking back on all of the rough patches I have experienced in my short 44 years on the planet, the one thing that always strikes me is that you always get through it. Eventually. It doesn't seem that way when you are in the meat of the moment so to speak. But you do get through it, you look back, and you think thank God I hunkered down, dealt with it, and did not let it consume me. AND mostly you tend to takeaway from it a learning experience which makes the next rough patch a little less rough.

• United States
12 Apr
You sure to have a lot on your hands! I hope, with time, things will seem more routine.