The amazing Chinese hand-pulled noodles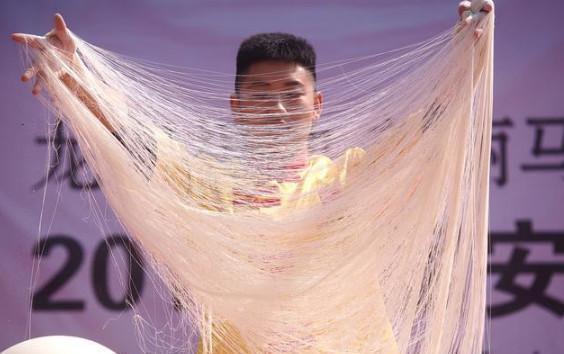 Guangzhou, China
May 14, 2018 8:21pm CST
In fact there are many kinds of noodles in my country and they can be quite different. The most amazing one for me is the hand-pulled noodles. As they are all hand-made without any tools. It is amazing that the chef can use the dough to pull the noodles and they can make it shortly. It is like an art for me. Whenever I have this kind of noodles, I always observe the chef carefully but I know I will never learn it

One minute ago he still has the dough, but one minute later he has noodles in his hand.
7 responses

• Hangzhou, China
15 May
In Zhuji,Zhejiang province,we have the delicious noodles for Ciwu,it called "Ci wu Da Mian".I had eaten it,it's very big and tasty.And also it's very cheap,you just spent 10 Yuan to eat. But my favorite noodles is Chow Mein,i haven't eaten for many years.i really miss the taste of Chow Mein.

• Phoenix, Arizona
15 May
That is actually very interesting. I wonder how you would develop the type of talent to be able to do that! Thank you for sharing!

• Manila, Philippines
15 May
That is just amazing. They have that special skill to make those noodles flawlessly. Wonderful.

• Manila, Philippines
15 May

• Guangzhou, China
15 May
@mlgen1037
Dare not to try it. I will make it in a mess for sure




• Roseburg, Oregon
15 May
That is amaing and noodles also taste good.