Beeping doesn't mean to be rude to you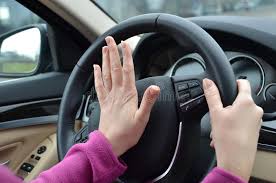 Guangzhou, China
May 16, 2018 9:07pm CST
I think there are different driving habits all over the world. Some people think it is rude to beep or being beeped. It is not like that all the time. Here if there is a narrow big turn, it is better to make a short beep and drive slowly in advance. It is just like saying I am coming and please be careful if you are driving towards me. And if you hear the beep, it is better that you give a beep as a response.
7 responses

• China
17 May
Yes, I agree with you. When driving, the driver honked his horn, just a warning to passers-by to remind them to be careful.

• Anniston, Alabama
17 May
I beep when someone is on their phones and the light is green and they just sit there and won`t drive.

• United States
17 May
When that has happened I would call 911 give the plate number and the color of the car.

• Guangzhou, China
18 May
@sharon6345
The proof may be a little bit difficult to provide as you may not take a photo for it.

•
17 May
You are right. Beeps should be used for response purpose. I have seen people using horns continuously when they are on driving at uncontrolled speed and sometimes unnecessary beeping at traffic. This is disturbing.

• United States
17 May
I think people beep at each other for different reasons. Some might intend to be rude, but most people are probably just doing it for safety reasons. If the other driver is not paying attention, hearing the horn makes them look up. It can actually prevent an accident!

• Manila, Philippines
17 May
That is right. But some beep because they think they are the masters of the roads that other cars have to pave way for them.

• Manila, Philippines
17 May
@youless
Indeed, it is. Many drivers here are not nice.

• Philippines
17 May
My brother does that most of the time. He says it's his right to get attention to either pedestrian or another vehicle if it's in the way.

• Malaysia
17 May
how about repetitive honking?