Couldn't Seem to Settle Down and Do Much Today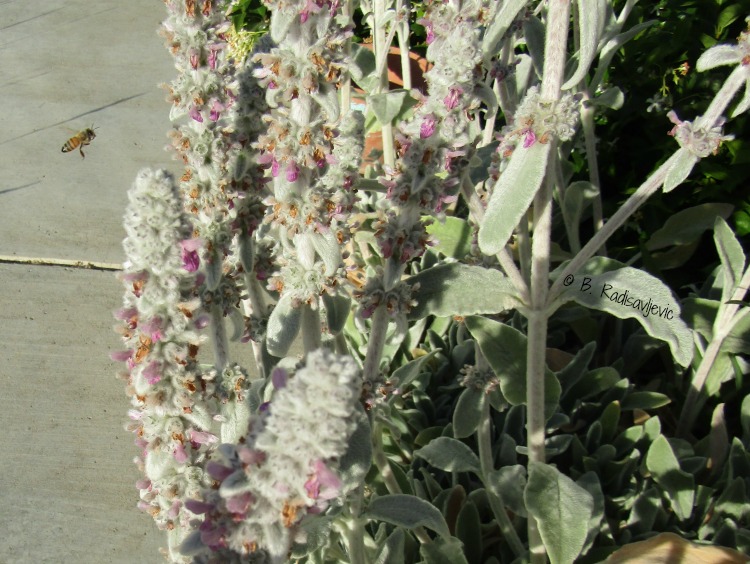 Paso Robles, California
June 3, 2018 2:06am CST
It's been hot today. So I stayed inside until almost sundown. Hubby gave me lots of things to do, like check to see if rents came in, pay bills, and other clerical stuff. He didn't leave until almost three, so I got a late start on my writing. A very late start, since this is really the first writing I've done today. Like the bee hovering around my Lamb's Ears flowers, trying to decide where to go next, I was flitting from site to site. I scheduled a few posts on Twitter. I posted some things on Mix and checked out some new followers. I just couldn't settle down to write. I lost the great idea I had for my next product review due Wednesday and have no idea what to review. I'm sure I'll think of something. I'm not in the mood to do a book review. I could go write a post on Virily, another site I visited today to clean up my notifications. It's almost midnight and I was going to write blog posts and I didn't. Instead I commented on City Daily Photo blogs as I usually do right after theme day. I ate dinner about 5, rested a bit and read a magazine. When it got cool enough, I went outside to deadhead the irises, pull some weeds, and cut a few exuberant plants down to a smaller size. Then I took pictures of my accomplishments. I should have blogged something for my gardening blog with those photos, but I didn't. I should have posted to my daily photo blog, but I didn't. I should have written a Virily post or edited some older posts like I did yesterday. But I didn't. My mind just doesn't work well in the heat. Now it's cooler and I could work but it's almost bedtime. So I'll try to get a quick Virily post done, earn some Virils, and deal with any notifications that may have come in. Did you accomplish what you'd hoped today? Or did you flit from one thing to another as I've been doing. About all I've really got to show for today so far is a half full organic matter recycling container to go to the curb Monday so the city can make compost. But the morning is yet young. Are you just getting up or are you about to go to bed?
9 responses

• Hartford, Connecticut
4 Jun
:) love lambs ear.. mine is spreading and has just sent a baby outside of the garden boundaries.. now I have to mow around it until i figure out where to replant it.. Last year I gave some little babies (popping up from the seeds) to my neighbor... I am beautifying the neighborhood one house at a time!.... lol We actually got a little bit accomplished this weekend too. I went to the cemetery for more wildlife photos on Friday and Saturday.. Thursday morning we went to home depot and placed a large order for some fencing to be delivered Saturday. they came in the morning only had to wait a few hours... and then the task of moving the 14 panels one by one to the backyard... Not fun in the heat. but it's done and now we can repair the fences!

• Paso Robles, California
6 Jun
You got a lot done. I have to thin my Lamb's Ears when it cools off a bit. I've given away all the neighbors will take and babies are popping up everywhere, even in my lawn.

• Paso Robles, California
9 Jun


• Baguio, Philippines
3 Jun
Hi! It's 5:30 pm here and I am watching news now while mylotting..

• Paso Robles, California
4 Jun
I've tried to stay away from the news today. I can't write if anything with words is playing on media.

• Baguio, Philippines
4 Jun

• Manila, Philippines
3 Jun
Hi Barbara. I am going back from my vacation with my brother and his partner. And we were able to go shopping for a while. So happy. And later I will be going back to work with all the pending things when I get home.


• Paso Robles, California
4 Jun
Sounds like you had a nice weekend. I'm happy for you.

• Manila, Philippines
4 Jun
@bagarad
Thank you, Barbara.


• Kolkata, India
3 Jun
this can happen when something beyond the routine happens. things will be on track soon dear.

• Paso Robles, California
4 Jun
I hope so. At least I know what I want to get done now.

• Marion, Ohio
3 Jun
I got a few things done and then enjoyed a cooler day as it wont last.

• Paso Robles, California
4 Jun
It was hot here again. I'm hoping having the windows open tonight will cool things down.

• Preston, England
3 Jun
about the middle of the day here - I tend to leap from one project to another unless I organize myself properly

• Paso Robles, California
4 Jun
I'm not fully awake until about noon. I go to bed pretty early -- in the morning.

• Los Angeles, California
3 Jun
You still accomplished way more than !!

• Paso Robles, California
4 Jun
Then I hope you had a good rest to get you ready for next week.

• Singapore
3 Jun
I just want to be bumming if you asked me

• Paso Robles, California
4 Jun
I think I'd get bored bumming.

• Roseburg, Oregon
3 Jun
I will be going to bed in an hour. It is one AM here.

• Paso Robles, California
4 Jun
I'll probably get to bed around 2, as usual.