1,000 Llamas!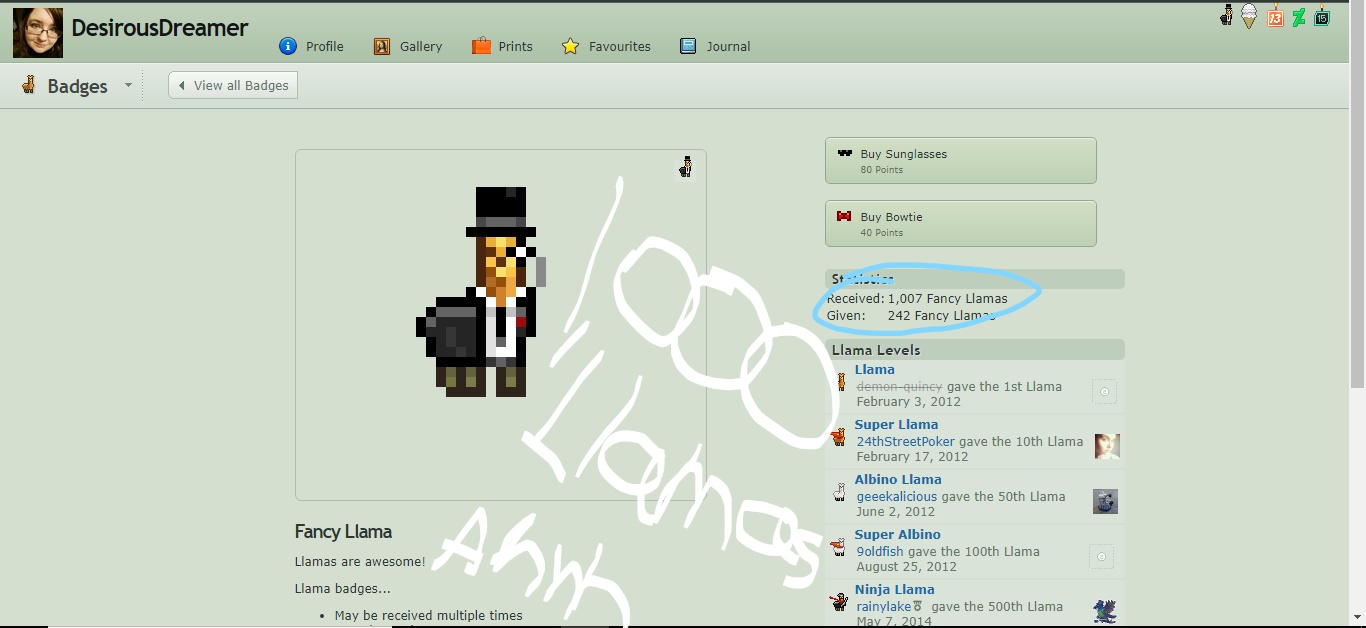 Peoria, Arizona
July 13, 2018 11:17am CST
Wouldn't that be amazing? Just 1,000 Llamas...I guess it would smell a bit. Llama spit is rank. Though it is really funny when the most annoying girl in school who is also kind of a bully got too close to the llamas at the zoo and one spat right in her face. Oh 8th grade. So I have been on the website DeviantArt for a long time. I think I have been on it for 10 years now. I had an account before but really creepy things happened on it and I made a new on and this one I have been on it for 6 years. DeviantArt is one of the best art platforms there are out there, a lot of talented and unique artists, authors, creators. And some...Ahem, people have too much free time on their hands, let's just say that. So basically about the llamas, you can give llama badges to people. It is a way of saying Hey, thanks for commenting, following, or favoriting my content! And the badges have ranks, so you start out with a basic llama, then you go to super llama, albino llama, super albino llama which was always my favorite and at the 1000 mark is the Fancy llama! Isn't he so cute with his little outfit? The llamas have no real value other than collecting them and they are really cute. At 2500 it is the King Llama, I know that will be a while until I get that, but I'm just happy to be apart of a very sweet community of artists and also I get to talk about llamas!
6 responses

• United States
13 Jul
Is it any art? Like canvas. Do you sell it or just show off how good you are, lol.

• Baguio, Philippines
13 Jul
That's sounds like a good site but unfortunately I am not good in art

• United States
13 Jul
I bet one fine day you will get the King Llama!!!