I feel bad for this woman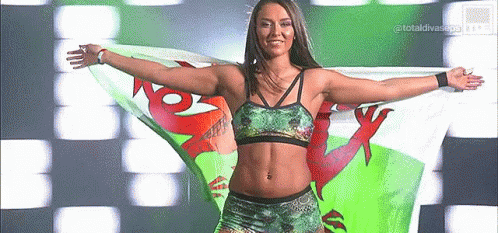 Calgary, Alberta
October 18, 2018 12:51am CST
The woman in the Photo is Tegan Nox. She a Welsh female wrestler and her dream is to work for wwe. I know wrestling is scripted but injuries do happen and some people even died. Last year her left knee got broken during a match, so for a whole year she was sideline. After her surgery and rehabilitation, she got cleared to compete to the WWE tournament Mae Young Classic, It's "winner" will win a WWE contract. She is actually scripted to win that tournament... Guess what....She got injured again, this time it's her right leg. The video below is a woman who just have her hopes and dreams broken. It is not a scripted scene, its a woman crying of literal pain and emotional pain. I wonder if she will give up on her dreams and pursue something else or try it again after her surgery. 2 surgeries in 2 years. Some people think wrestling is not for her if she is this injury prone. She just had a surgery again and she was wheelchair bound for few months. If you have the courage to watch a video of a woman crying of 2 kinds of pain as her dreams got shattered, its on the video below. This is the complete list of her injuries: dislocated knee cap torn MCL Torn LCL, torn meniscus, bone contusions, tibia fracture.

Tegan Nox receives words of comfort from WWE COO Triple H after suffering a heartbreaking leg injury in her Quarterfinal Match against Rhea Ripley. GET YOUR ...
9 responses


• Calgary, Alberta
18 Oct
She is only 23 years old and now she is more surgery than some veteran wrestlers. Maybe she should give college a try. What I feel bad about this girl is that she had been wrestling since she is 16. I guess she became injury prone due to the pressure of the opportunity.

• Philippines
18 Oct
@CaptAlbertWhisker
_A college degree will offer better opportunity. There are so many sad stories of sport professionals who became penniless and relied on charity in their old age.

• Calgary, Alberta
18 Oct
@josie_
Athletes thought they are young and strong forever or they will just save money while they are young. They didn't know injuries can destroy them.



• Calgary, Alberta
18 Oct
@Plethos
What hurts for her is that she is scripted to win this tournament. So the woman who will end winning this tournament will be blessed by her injury.I think once she recover, she should go straight to nxt and skip this tournament. It is like a Jinx to her. I know there are people who are good with Lucha libre, I just think she should stop using the style as she is not acrobatic enough and it injured her twice.

• United States
18 Oct
@CaptAlbertWhisker
- i think it was just a freak accident on her part. so am i correct to guess that you are a wrestling mark?

• Calgary, Alberta
18 Oct
@Plethos
Yup Only a mark will watch Mae Young classic, NXT and NXT UK. Three shows better than main roster at this moment. Main roster became unwatchable that Impact is now better than Raw.




• Calgary, Alberta
18 Oct
She is in a wheelchair now. Her injury for this year is worst than her injury last year. She might get operated twice and have another year long rehabilitation. If she will get cleared, its a mystery since she now have 2 broken legs.

• Switzerland
18 Oct

• Calgary, Alberta
18 Oct
@LadyDuck
She can be a fitness model I think. She have the body and face for those fitness magazines or she can go back to school.




• Philippines
19 Oct
@CaptAlbertWhisker
I hope she learns to avoid those in the future indeed


• Calgary, Alberta
19 Oct
@lady1993
There are four type of wrestlers, Technical, striker,Power and High flyers. Power are those wrestlers who does strength base attacks Technicals focuses on submission. Strikers focuses on punches and kicks. High flyers does acrobatics. I think she is not meant to be a high flyer.


• Calgary, Alberta
18 Oct
She is hoping that she will be cleared again after that injury. She is too young to retire so she is not giving up but damn... 1 surgery per year in just two years. Her injury this year is worst because her leg kind of exploded. She got fractured bone,torn acl, bone contusion, torn mcl, and her knee got some damage too. She is currently on a wheelchair.

• Philippines
18 Oct
@CaptAlbertWhisker
oh my. I do not think she can go back easily. Maybe she will realize that along the way. Hopefully.

• Calgary, Alberta
18 Oct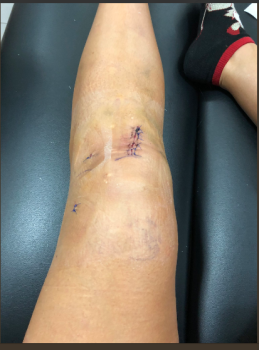 @rakski
I think she can still wrestle but she should stop the high flying and acrobatic moves. It already injured her twice. This is what her leg looks like now after surgery.


• Nigeria
18 Oct
Oh no! I feel for her. I wish her speedy recovery. The doctor's report will go a long way in determining if she goes on with wrestling or not.

• Calgary, Alberta
18 Oct
Both of her limbs are now repaired for surgery so yeah it gives me a feeling she have no future for wrestling. Maybe she can try acting or modelling since she is a pretty woman. I do know wrestling is her dream.

• Philippines
18 Oct
I feel pity her, its the ambition that went away that really giving us tormenting pain. But don't give up as they say because giving up are for losers.

• Calgary, Alberta
18 Oct
She wants to continue her dreams once she can walk again. She just got the bandages from the surgery removed 5 hours ago. Her leg looks deformed from swelling.

• Roseburg, Oregon
18 Oct
She must really love wrestling to keep on wrestling even after getting hurt.

• Calgary, Alberta
18 Oct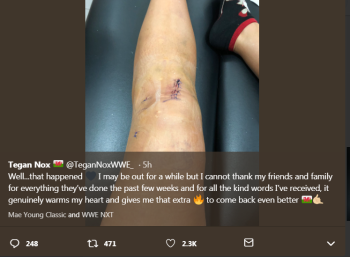 and got hurt again. She just got her surgery a week ago and now the bandages are removed 5 hours ago. it seemed like she will still continue despite of having 2 surgeries in 2 years. I hope she will be more careful. Her leg looks deformed after surgery.