Charmed Series Finale.

United States
November 29, 2006 3:34pm CST
Were you disappointed that Prue didn't come back for the Charmed Series Finale?
2 responses

• United States
13 Dec 06

Talk about crying!!! But it wasn't over Prue not being there. I am so sad to not see the show go on. Now I definitely have to start buying the DVDs to get my Charmed fix. I wasn't disappointed because Prue had not been on the show for so long. My view of it was she probably was too busy with her other shows she is trying at. So, best of luck to Shannen Doherty...I hope to see her in the future on tv.

•
11 Dec 06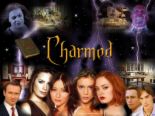 I just saw the last ever episode here in England, and I was sad not to see Prue in it as there was the whole family together. At least it ended happy and the writers have left it open to a possible reunion episode sometime in the future. It's definately an end of an era