do you know this?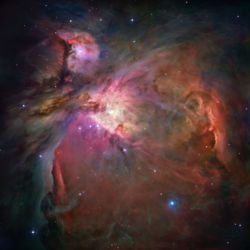 Portugal
November 30, 2006 12:22pm CST
A composite photo of the Orion Nebula, the closest region of star formation to Earth. It is composed of 520 separate images and NASA calls it "one of the most detailed astronomical images ever produced". The nebula is located below Orion's Belt and is visible to the naked eye at night. It is one of the most scrutinized and photographed objects in the night sky, and is among the most intensely-studied celestial features.
1 response

• Canada
21 Jan 07
I was n't knowing about his, until u had given a very good explaination about his, thanx for the information, how did u know about this?