FOLKS WHAT DO YOU THINK ABOUT KOBAIN

India
December 1, 2006 12:59pm CST
WHAT WAS KOBAIN AFTER MONEY OR GIRLS!
5 responses

• Romania
4 Dec 06
money?girls?kurt cobain was an inspire to life...realist, and somekinde of abused soul.I say that only because he tried not to be mixed up with other leading singers;he playied his dreams on that guitare, so i think that money or girls dont have anything in common with kurt.NIRVANA lives forever in our souls...and Kurt may your nirvana guides u to ur star!

• United States
11 Dec 06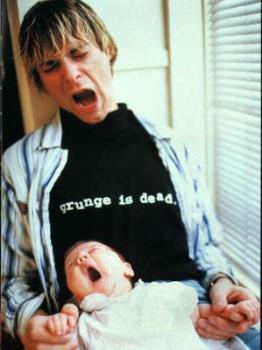 I'm more with you. He just loved to make music. Love the Cobain.

• India
19 Dec 06
Kurt was never behind anyone or anything. All he was interested was his music. He made them with what he felt it should be. People later called it 'grunge', 'alternative' etc etc etc.. but Kurt was never really bothered.. he vented out his feelings with his music and that influenced an entire generation.. he expressed his thoughts and feelings through his music and had the b****s to speak out loud.. Kurt was a very simple and a very humble human being.. never did any harm to anyone, never believed in materialistic fame

• India
11 Dec 06
He was after life...He wanted to live life to th fullest.