If we produce enough food to feed everyone in the world, why don't we?

India
4 responses

• United States
2 Dec 06
Because it's too much work to go to every country and give them food. Everybody has to ship in and help out to make it happen.


• United States
2 Dec 06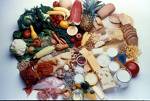 Thats a dang good question! Another question I always ask along those lines is: when celebrities are promoting giving money to places like Africa to stop all the disease and hunger, why don't they give all their money when they are the rich ones? If they think it is such a huge problem, they all have millions to spare!

• India
2 Dec 06
Food has to be provided to all nations who faces poverty especially in remote places in Africa etc Are you working in mylot for money,fame,fortune or timepass?If you want to make mylot a very good one,think once again before you send a message to this group........Take care