unique ideas for clay pots?

United States
September 14, 2006 1:57pm CST
Does anyone have any unique ideas for using clay flower pots? I bought about 300 of them really cheap at an auction and would love to let the children decorate them or use them somehow in a unique way. We have done decopage and paint so far. Any other ideas?
3 responses

• United States
8 Dec 06
You could let the kids paint them different colors and what not and then use them to keep things like crayons, markets etc. in. That way they can see their creations everyday. Or even plant some herbs and other stuff and set them outside and the kids can watch their plants grow.

• United States
13 Jan 07
The only problem with this idea is that washable tempera paint does not stick to the pots. The only thing I have found that works is regular oil based paint. I am good, but I don't think I could let them do that unless it was one child at a time! Could you imagine the mess if they spilled the paint? Yikes!

• India
12 Jan 07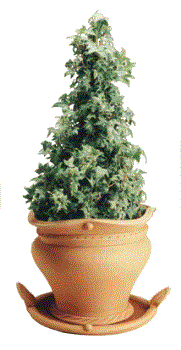 The pots can be made in one of four different clays: red terracotta, white or black or parchment. Patinas or finishes are applied and fired into the pots to enhance their surface. Kim's custom pots feature ornamental details: handles, buttons, shell motifs or even customized logature. These containers are designed to work as excellent environments to grow plants. Made with generous rims and sensible proportions, they can be planted and replanted in for years providing a wonderful compliment to your gardens and homes.