Primus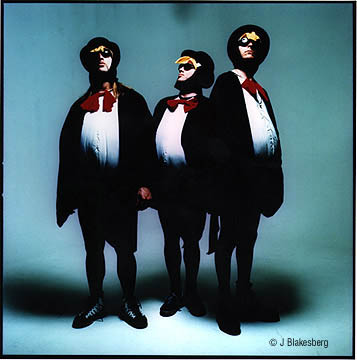 Philippines
December 2, 2006 5:05am CST
Primus is an American rock band formed in California in the mid-1980s. Singer and bassist Les Claypool has been the only constant member. They have had two guitar players, although Larry LaLonde has held onto the role for over 16 years, and several different drummers. Tim Alexander, Bryan "Brain" Mantia and Perm Parker are the only drummers to have recorded with the band. Their music has proven difficult to define; while usually considered by critics to be funk metal or alternative metal, Primus has been called everything from "thrash-funk meets Don Knotts, Jr."[2] to "alternative rock" to "the Freak Brothers set to music."[3] Les Claypool himself once described their music as "psychedelic polka."[4] Primus is the only band with its own ID3v1 genre tag, as extended by Winamp.[5] Due to the diversity of their sound, Primus have been able to gain a modest segment of fans from many different rock subgenres. They are characterized by their irreverent approach to music. Primus release their records on Claypool's Prawn Song Records label, a parody of Led Zeppelin's Swan Song. The band's catchphrase is no longer "Primus sucks!" because the band has gotten plain tired of it, although it was a tradition that dated back to their first album. To this day, at concerts, fans can be heard chanting "Primus sucks!" until the band takes the stage. Anybody else like this band?
4 responses

• United States
20 Mar 07
Saw them at Roseland, at least 10 or more years ago. Loved it! I even moshed. Delighful! And yes, Primus SUCKS!!!!

• United States
20 Dec 06

Yea, I dig Primus alot. Have all their CDs, and saw 'em live once. I just picked up the new DVD, Blame it On The Fish. An abstract look at the 2003 Primus tour. Haven't watched it all yet (over 2 1/2 hours!), but pretty cool so far.

• Australia
4 Dec 06
Les Claypool is a musical and bass legend love his sound as well as Primus, my name is Mud is my fav track and antipop my favourite cd

• United States
2 Dec 06
I dig 'em, they just played here on the 28th. Unfortunately i wasn't able to make it to the show, but my friend did. :) He's met Les a few times and stuff as well. XD