Requiem for a Dream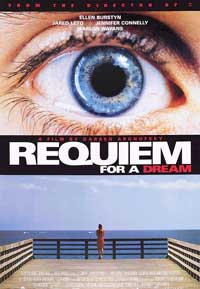 Philippines
December 2, 2006 5:57am CST
Requiem for a Dream is a 1978 novel by Hubert Selby, Jr. adapted into a 2000 film of the same name, directed by Darren Aronofsky, and starring Ellen Burstyn, Jared Leto, Jennifer Connelly, and Marlon Wayans. Burstyn was nominated for an Academy Award for Best Actress in 2000 for her role. The film depicts different forms of addiction, leading to the characters' imprisonment in a dream world, which is then overtaken and devastated by reality. Anybody else like this movie?
1 response

• United States
8 Dec 06
This is one of my favorite films. It is visually stunning combining the cinematic beauty of a Peter Greenaway film like The Pillow Book with the high intensity experimentalism used by David O. Russell in Three Kings and John Woo in most of his action movies. It also makes great use of its soundtrack to enhance the storytelling and visual effects - like Koyaanisqatsi's score by Philip Glass (not just popular music that already has its own cultural significance ala Scorcese/Tarantino). On top of all of this, there is top notch acting, and great character development. The plot itself is rather predictable, but given the way that the film is shot and time structured, this is not even an issue. And given Hollywood's preference for a happy ending, many find this film to be unpredictable. I like it lots, although it's a bit too brutal for me to call it my favorite.

• Philippines
8 Dec 06
Good response. Well, I simply refer to it as "the horror movie for junkies." Haha.