Do you think there are "ugly babies"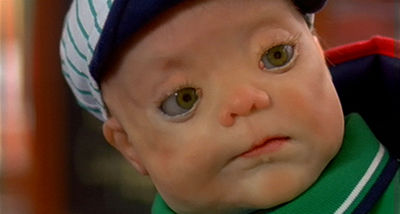 United States
December 2, 2006 12:34pm CST
Can a baby be ugly? Would you tell someone they had an ugly baby, or would you hold it and pretend it was cute? And I apologize in advance if this is a picture of YOUR baby, ha ha.
4 responses

• United States
2 Dec 06
Oh yeah, there's definitely ugly babies out there. I don't think I'd ever tell someone their baby was ugly. That's just kinda mean.

• United States
4 Dec 06
Yeah, I wouldn't just walk up to someone and say, "oh, my god, you're kid's hideous" or anything. I'm not a fan of fist-fights, and I wouldn't want the mom dropping her ugly yet still lovable baby in shock.

• United States
2 Dec 06
I saw a baby once that looked just like E.T. OK, that's a cute look for a movie alien, but NOT for a human being! I kept expecting the kid to stick out a glowing finger and point it at me...

• United States
4 Dec 06
Oh, thank God I'm not the only one that's willing to admit that not all babies are "adorable". Wow, I love ET but if my child came out looking like him, I'd be freaked out, too.


• United States
2 Dec 06
Yes, I think that some babies are ugly. When my newphew born he was a pretty ugly kid. Thankfully, he has grown out of it!