When did you last go for a hiking trip ? n where did u go ?

India
7 responses

• Israel
13 Dec 06
A week ago, To a place near Israel's Machtesh. The machtesh in a unique place, it was probably caused by a meteor fall in history. I tool a long trip that ended in a roman road going from Europe to the East, climbing it's way over the mauntanous terrain. A really interesting place to be.

• United States
6 Dec 06
My last few hikes have been integrated with an assignment my wife has for an ornithology class she is taking. She has to log 50 hours of field observation birding. We have been hiking local nature preserves here in upstate NY while looking for birds.

• United States
5 Dec 06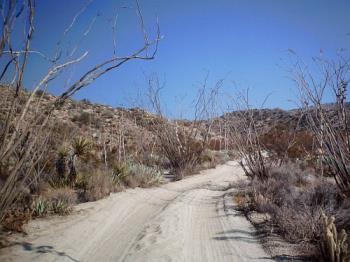 I actually took my bike, but I ended up hiking it most of the way because the road was extremely sandy. Even on the way down, I had trouble riding because of the cholla lining the road. I ended up on my feet nearly the whole way. I went to the Pinyon Mountain area of the Anza-Borrego Desert State Park.

• Philippines
5 Dec 06
I've been hiking every last week of the month, since I was an electric meter reader in the field. And I go to the top of the mountain as long as there is a house.

• United States
5 Dec 06
Harriman State Park...yesterday. Great place here in New York.

• Canada
5 Dec 06
Two weeks ago, we went hiking to the Orford Mountain in quebec which is about thirty minutes from where I live now. Unfortunately, there has been a conflict recently concerning the privatisation of the mountain and some people tried to block the path with trees and such in order to protest. But when there is a will, there is a way. We managed to climb to the top (about 800 meters). However, it was cloudy up there so we didn't see anything. Still, it was a great day of exercise!