Do yoy have a hamster in your house? Or would you like to have one?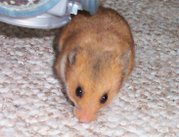 Romania
December 4, 2006 8:21am CST
Do you like hamsters? i find the very cute, and that's why a have two of them in my house: a male and a female, and I hope the'll make a baby soon, too. Please answer and say your opinion about them!
1 response