Is it true that once a gambler will always be a gambler?

Philippines
December 4, 2006 9:27am CST
You know Kenny Rogers song titled "The Gambler"? Well I like the song but i don't want to be a gambler! What will you do if you found out that your partner broke his promise that he will not be into gambling again? Will you stay by his side and wait for the time that he fulfill his promise or leave him for he betrayed you?
3 responses

• India
5 Dec 06
i dont think so..let the person lose 10 times and then see how he quits

• Philippines
4 Dec 06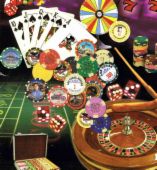 there are types of gambling.if you gamble just for fun,that's ok but if you will gamble even your livelihood and your source of living and anything that you could get in your home to be used in your gambling,well, i think that's a different story.if that would be the case, then i would think twice of leaving him and never come back until such time that he would control himself not to gamble too much or better yet,not to gamble anymore.