Tsuanami detection Buoy lanuched- one hour before warning ,will it be enough

India
6 responses

• Indonesia
7 Dec 06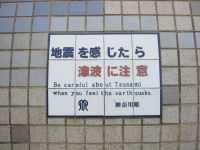 my country is the worst,alot of people killed and need to install tsunami warning,Tsunamis cannot be prevented or precisely predicted, but there are some warning signs of an impending tsunami, and there are many systems being developed and in use to reduce the damage from tsunamis. In instances where the leading edge of the tsunami wave is its trough, the sea will recede from the coast half of the wave's period before the wave's arrival. If the slope is shallow, this recession can exceed many hundreds of metres. People unaware of the danger may remain at the shore due to curiosity, or for collecting fish from the exposed sea bed. Tsunami warning sign on seawall in the sea,tsunami in aceh destroying the wooden building In instances where the leading edge of the tsunami is its first peak, succeeding waves can lead to further flooding. Again, being educated about a tsunami is important, to realize that when the water level drops the first time the danger is not yet over. In a low-lying coastal area, a strong earthquake is a major warning sign that a tsunami may be produced.

• United States
4 Dec 06
I guess an hour of warning is better than no warning at all. I would think that after the last disaster, people are going to be ready to leave at a moments notice. Hopefully the scientists will be working hard to find a way to give people more time to evacuate.

• Canada
7 Dec 06
i think some thing is better then nothing. and by this may be some of the people will able to save their lives. so some how and other it will b beneficial and by the passage of time may be better technology will be introduce which can predict 24 hrs. before any storm or tsunami occurance.

• India
7 Dec 06
well something is better than nothing at all. and it might alleast provide that lead time to get away from the coast. i think if properly used the time is enough to get away from the primary impact area

• India
4 Dec 06
I think the introduction of tsunami detection buoy is a good begining.Hope more improvements will come in the near future