Cell phones and plans?!?! What cell phones work the best/worst??

United States
3 responses

• United States
7 Apr 07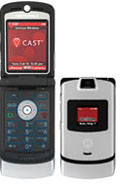 I have been using the Verizon LG phones for the past four years and loved the easy use of these types of phones. LG makes their phones very easy to use and learn. You might those brand phones. I just upgraded to a Razor phone today and will be getting it next week. I have heard good things about the Razor phones but not the chocolate phones. Here is the cell phone that I will be receiving next week.

• United States
15 Dec 06
I use Verizon, and i have been with them for a while now. It works great.