Is surgery for slip disc always successful?

Philippines
December 6, 2006 11:17am CST
I fell from stairs last December 2005 but I just ignored it until I started feeling pain on my right leg and on my lower back.I went to a doctor and she told me it might be just a muscle pain.She prescribed medicines that i took for a week.The pain was gone so i went back to normal.But after a couple of weeks i can feel the pain again and i ignored it again until i can hardly walk.i went to a new doctor and then he told me i might have a slip disc.He advised me to have an MRI so we can be sure that i have slip disc.The result is positive.I have a slip disc.I underwent physical therapy for 3 weeks but it doesnt help me it even worsen the case.We tried complete bed rest too but still no changes.So the doctor told me I need to undergo surgery.And then it happened,I had the surgery last November 20 2006.I was in the hospitl for a week.Th doctor told me I might feel pain for 3 days but it will be gone.But unfortunately my leg is still sore.I am afraid I might undergo surgery again because the 1st one was not successfull.Do you guys heard `bout case like mine?please let me know.Thank you!
4 responses

• United States
7 Dec 06
Every person is different. It has not even been a month since your surgery. You need to give it some time. Major surgery like that takes time to heal. I had surgery when I was 15 years old on my knee and I am 27 and I am still recovering. The nerves are rebuilding and all of that. Follow what the doctors say and if you have a question about it or your still in pain BUG THEM!

• United States
7 Dec 06
I dont think there is any medical procedure that has a 100% success rate.

• United States
6 Dec 06

am so sorry you are experiencing this condition... I have not heard of many people that get this bad and ever be 100 per cent again... however say never to never. Things could improve but to what extent is partly up to you. the body has the ability to heal itself and unfortunately the doctors are ready to cut and paste all too soon. Did you ever think of chiropractor? not sure if gentle manipulation would have done you good. Will hope with all my might that you will find a measure of comfort in your life and body!

• Philippines
7 Dec 06
Actually I did hear `bout chiropractor.I am just afraid to try it coz they do manipulation.Thank you!!

• Philippines
11 Dec 06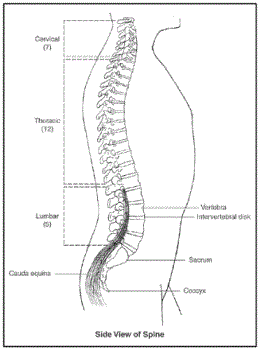 Slipped disc usually occurs at the lower back at the level where the 5th lumbar vertebra meets the sacrum (see image), but it can also occur higher. The thing is once you have surgery, some of your usual activities will be limited to prevent further deterioration of the disc. Of course your doctor knows more about it so best that you rely on their judgement. If you are having second thoughts then go for a second opinion.