Childrens Books

6 responses


• United States
12 Dec 06
The very first book my kids ever had was Love You Forever by Robert Munich. My oldest boy got his as a gift from my sister when he was born, I read it to him every night and into his toddler yrs, then read it to my daughter when she was a baby into her toddler yrs and was goin to read it to my son but never had a chance so we bought a second copy and buried him with it.....Any of the Robert Munich books are FANTASTIC!! I recommend them to all parents...my sis read them to her class when she was teaching as well and ppl of all ages can enjoy them...

• Philippines
9 Dec 06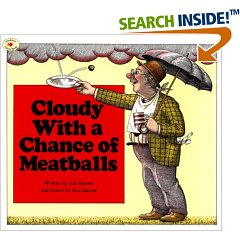 Cloudy With a Chance of Meatballs by Judi Barrett, Ron Barrett Man! There are some really good children's books out there!! This one is a perfect example! I love the bit of fantasy that this book offers. As I read this book I could imagine it all in my head (which was really fun). Most children love to use there imaginations and reading this book would ignite there imagination. I would love to use this book in my classroom one day! Not only is the story line creative and full of fantasy, but the pictures offer things that I would have never thought of before. The details in the illustrations are amazing. For example, on the post of the street light in Chewandshallow town, there is a campaign sign that reads, "Vote for Anne Chovie". I love these little details. They add so much. I think that this is what makes this book fun for adults to read as well. I really enjoyed reading this book and I am sure my future students will one day as well!

• United States
7 Dec 06
Our favorite right now is called "I will never not ever eat a tomato". It features the Charlie and Lola characters you may have seen on TV. I love it because the child who would never consider putting a bite of mashed potato between their lips will taste a spoonful of cloud fluff. My other favorite is Bedtime for Francis. It is an oldie but a goodie.

• United States
6 Dec 06
My children love to have me read "Goodnight Moon". My husband reads "The Three Little Pigs" to them with lots of different voices.