which is your favourite place?

India
December 7, 2006 6:39am CST
5 responses

• United States
20 Dec 06
One of my favorite places in the United States is Beatly rock up in the high red woods in California. The trees are so tall like buildings, there are woods and meadows and lakes. It is beautiful.

• Romania
14 Dec 06
I like to travel a lot and especially in those places which are not so crowded.I like to rest there and recharge the energy used in the crowd of the cities!One of My favorite place is In romania,in the mountains,where it is a very nice mountain road and a great lake and This is Transfagarasan place!

• India
7 Dec 06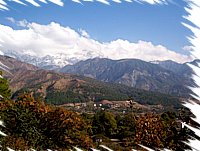 I like dharamshala.............. Dharamshala came into being in 1849, when it was selected as a site to accommodate a native regiment that was being raised in the town. Dharamshala originally formed a subsidiary cantonment for the troops stationed at Kangra was fully occupied by its garrison and there was insufficient space for the civil station, a search for an alternate location was made. The ideal location for the cantonment was found at the slopes of the Dhauladhar, upon which stood an old Hindu sanctuary or 'Dharamshala' the name adopted for the town. Dharamshala stands at the foot of Dhauladhar and has a magnificent view of snowy peaks, deodar and pine forests, tea gardens and beautiful hills. The snow line is perhaps more easily accessible at Dharamshala than any other hill station in India. Dharamshala now really has become international, with a number of Tibetan settlements and the residence of Noble Laureate the 'Dalai Lama'. Dharamshala is devided into two distinct parts: lower Dharamshala the civil and business area with Courts and Kotwali bazar and upper Dharamshala composed of places like Mcleod Ganj and Forsyth Ganj.