importance of education

India
December 8, 2006 2:14am CST
why do u think education is important in this world...?
4 responses

• India
10 Jun 08
education not only improves our knowledge but also teaches an individual how to behave in society... how to treat others in life.. also how to do administration ect. in corporate world... to improve our country's std each and every individual must be educated... for this to occur parents must be aware of the importance of education in life

• India
8 Dec 06

it is one of the most important think in life, just cant do with out it, i shapes the life of every student, without it, it is difficult to develop.

• India
8 Dec 06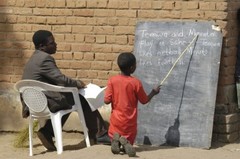 From the time we are born we learn. We learn how to walk, eat and talk. We learn how to understand when people are happy or sad. A lot of what we learn needs to be taught to us by other people. What we learn is important to how we live our lives. Doctors can only help us when we are sick because they have been taught what to do when people are sick. As long as what we are being taught is true and we use what we have learnt, education improves our lives and the lives of those we come into contact with. In New Zealand we do not always think of going to school as exciting, interesting or something to be happy about. This is usually because almost everyone goes to school and school is hard work!The way we think about school is different from a lot of people in other countries where children don't often get the chance to go to school. In such countries a child going to school can help their whole family. They may learn to read and be able to understand labels on medicine bottles, learn to count and be able to keep records of how much money the family spends a week, they may learn what food to eat to avoid getting diseases, and they may be able to teach other people how to read. We may not see how valuable these skills are because our parents already know them or because we know we have the chance to learn these things if we want to. Here are a couple of stories about children for whom the chance to go to school is highly valued.

• India
8 Dec 06
If you want to know the importance of education just go and see the people in slum area.. then you will feel how important the education is... Education brings life.