Posting Your Dobermans Ears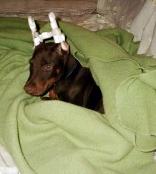 United States
December 8, 2006 7:51am CST
I've only had to post Dobermans ears once, when we got our puppy a couple of years ago. Luckily the breeder we got the puppy from walked me through the steps and I was able to get the hang of it. Has anyone else had experience posting puppy ears? How long did you post for? Also, did you ever have problems with ears that would not stand after posting?
4 responses

•
8 Dec 06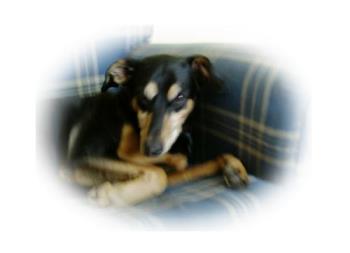 I think that's illegal in the Uk, my Newty dog has lovely floppy ears and a long tail. I think you can do their tails here if they are working dogs before a certain age. Not sure I believe in it, nature knows best after all and it gives them that startled look, bless them.

• United States
8 Dec 06

Our female Tiffany had those lovely floppy ears and they were so soft. She liked to ride in the bed of our pickup truck when we were driving somewhere and her little ears would stick out like airplane wings because of the wind. It was the cutest thing!

• United States
11 Dec 06
I think it's interesting what you said earlier about the cropped ears making them look as though they are startled. To me, they look like they are on alert. It sure was a lot of work posting them, though. I prefer the docked tails as opposed to the longer ones.

• Canada
3 Jan 07
How did it go? My uncle had a Doberman and she was the sweetest dog, yet she looked fierce because her tail was docked and her ears were cropped. I think the au naturel look makes them appear less threatening or on guard. I also believe they got a bad rep because of the original Omen movie. I own two small dogs already, but if I move to a larger house I would absolutely consider adding a Dobie to our family.

• United States
4 Jan 07
Thanks for responding. I have never seen the original Omen movie so I'm not familiar with that Doberman. To me, the natural ears and tail make them appear to be an entirely different breed of dog. They no longer appear to be Dobermans at that point. I think you'd enjoy owning a Doberman. I have more information about them on my blog at http://dobermanns.blogspot.com

• United States
23 Nov 07
Granted it has been a long time since I watched a Omen movie but I do believe that the dogs I remember in it were rottweilers not dobermans


• United States
11 Dec 06
The vet can do this, sure. It's just that the ears have to be posted, then bandages removed and left off for a day or two, then re-posted, etc. It takes about 8 weeks usually of repeating this process before the ears will stand on their own. Having the vet perform this procedure every time could get costly.

•
27 Jul 07
We just got a doberman a few days ago. She is 6 weeks old and we will be cropping her ears. If it's painful for them give them some pain killers. It won't hurt them forever! They do tend to get over the pain when they are healed! Cropping the ears completes the look of the Doberman in my eyes, and it's the way that they have looked forever! Yes, many breeders are starting to leave the doberman's ears and tails natural, but I think it takes away from the breed and makes them look stupid when you dont crop the ears and dock the tail.

• United States
4 Nov 07
How did the ear cropping go? How did it turn out? When the vet does it, they put them to sleep so they shouldn't be uncomfortable during the crop. Posting the ears should be part of the price that is paid for the cropping. Though they only cover so many postings. I believe it takes away from the look of the dog when their ears and tail isn't done. They dog is still a doberman though even without the look.