What would you do if your Brother took up donations after katrina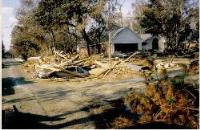 United States
September 19, 2006 1:19am CST
To find out months later that you hadnt received a dime from a very big church.That your brothers wife must have used the money.We lived for 5 months with no ac no floors sheet rock with mold all over it torn of roof when rained it poured.When my brother found out she had not send the money he can an helped but wanted us to pay for him and two other guys.My 72 year old mother was almost dead after the heat mold.And we could have used that money to fix our home and repayed iteven though it was donations. when we got insurance, still living a mess havent got all the insurance money.And my mom is even sicker now to find out about this .
3 responses

• Belgium
20 Sep 06
That's just terrible! How can people be so egotistical AND at the expense of your mother's health. I am saddened by his selfishness and I pray that you will manage to repair your home and take care of your mother. Courage!

• United States
20 Sep 06
I am so sorry for your family, we were also victims of hurricane Katrina, we are from Ms. I think this is a terrible situation for your brother to have put you in, I think it would be very hard to forgive him and he should be ashamed of his self for doing this to you. Good luck, I wish you and your family the best.

• Hong Kong
19 Sep 06
Less communication or no communication can brake up relationship; also more or good communication will make relationship work or even better. A family means peoples you can trust