about software.

India
December 9, 2006 7:17am CST
would you please tell me,is there any software which can compress 700mb files in to 2 or 3mb file?
4 responses

• Romania
9 Dec 06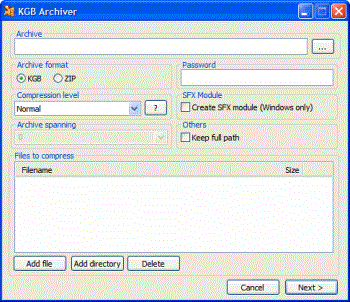 http://pravalrevealed.wordpress.com/2006/11/24/compress-your-1-gb-data-to-just-10-mb/There is a program called KGB Archiver, you can compress 1 Gb to aprox. 10 Mb but it will take 5-6 hours, there are a few methods of compresion, you can read the details in the link above. Good luck!

• Romania
10 Dec 06
Ok, best of luck and thank you for giving me "best response"!

• Romania
13 Dec 06
A mathematical algorithm like that i don't think exists. Compression is realized using a mathematical algorithm that codes all the files, assigns a value to each other and packs them all together. Anyway it's very complicated. Even if it existed a program of such you cannot compress all files like that because it depends of the files how much compression can they withstand. If compressed that much who knows how the archive will react, and probably if you try to unzip-it you'll get an error. Or not, I have not done this before and thus I can't say how it will react. Still i know it will take a LOT of time.