Are peoples obsessions with their mobile / cell phone a worrying trend?

December 10, 2006 3:12am CST
More and more people seem to be completely obsessed with their phones these days. Constantly checking for messages (despite the fact it will make a noise if you get one) constantly texting and suffering real signs of anxiety if seperated from their phone for only a few moments. Why has the mobile / cell phone become such a crutch for peoples confidence and security? If the billions spent on ringtones / wallpaper justified? Is it true that the more ways we have of communicating, the less we have to say?
2 responses

• Italy
10 Dec 06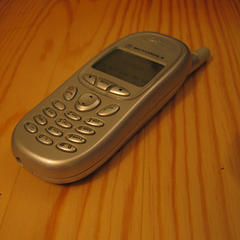 i witnessed many times the facts you listed. i have a mobile, i must for work, but i am not a cell-addicted. many people spend lots and lots of money and the worst thing is that they do not even know all the functions of their mobile, just the 3 or 4 they use often.

• United States
10 Dec 06
I cant live without my phone anymore. Before I had one I was ok. now that I have one i need it. I turn it off from time to time just to get away from the madness. No one ever calls my home phone except my sisters and my cell is rarely used now that I have moved. I am doing ok.