THIS SHOULD MAKE YA THINK TWICE ABOUT GETTING A REAL CHRISTMAS TREE THIS YEAR!


United States
December 10, 2006 3:42am CST
I logged on to the internet, I use People Pc, and they show me the latest news on my Home page. Under the "strange news" section was the following article. Made me really appreciate my artificial tree! And has now really put the stops to my ever wanting to get a real tree....I like em, but their kinda a hassle to take care of, and with all the hustle and bustle going on around the Holiday times, who needs one more thing to take care of.........I really feel for the daughter in this story.......I probably would have SCREAMED SO LOUD THEY WOULD HAVE HEARD ME ON THE WEST COAST, AND RAN ALL THE WAY THERE.....By the way does anyone know what exactly an opposum is.....I assume it's a possum....but enlighten me, if you will!.................... Saturday, December 9, 2006 ENGLEWOOD, Pa. - A woman who hurled last year's Christmas tree out in the yard when an opossum popped out, scaring her teenage daughter, said the family will stick with an artificial tree this year."My daughter's still afraid she'll look at the tree and see eyes looking back at her," Patricia A. O'Connor said. Though her husband, Michael, would like a real tree, she said, "We thought we'd give it one more year."Daughter Mary Kathleen O'Connor was doing her homework by the tree a few days before Christmas 2005, when, she said at the time, "this head just popped up. ... I was thinking, 'Oh my God!' And I screamed."The family came running, and called the state Game Commission. A wildlife conservation officer removed an 18-inch-long opossum and released it in the woods about five miles away
2 responses

• United States
10 Dec 06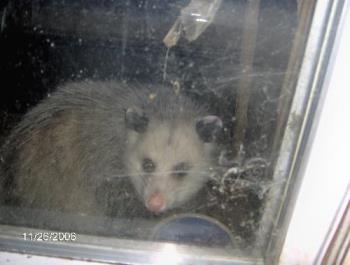 LOL. I glad I am allergic to real trees. We have an artificial one. And yes, opossum is how it is spelled even though some people spell it possom. I have two of the darling critters that come on my little cat porch to eat my cat food.lol. Heres a pic.

• United States
10 Dec 06
I was afraid of them at first. My cat will come up on the porch right next to them and want to come in the window. I open the window and the thing hisses at me. Oh and I can have a real tree it just makes me sneeze and get stuffed up. It was worse when I was younger.

• Italy
10 Dec 06
i am not getting at all a christmas tree. i don't want a real one because i think it will be damaged if i take into my house. i don't want a plastic one because i don't like them. i will spend christmas just with my family and the people i love, that's enough