Work, are you happy where you work
Australia
December 10, 2006 5:40am CST
I work in child care, its fantastic, whats better than getting paid to sit down and play with kids.
6 responses

•
10 Dec 06
I own a toy shop. Beats a real job. Except on days like today when the rain is lashing down and I've eight hours to kill , whilst hoping that at least a few people brave the elements.
• Australia
11 Dec 06
Toy shop, sounds like a pretty good job especially when you own it. As for the rainy days, I hope things go well for you. Thanks for you reply.

• Beaver Dam, Wisconsin
11 Dec 06
I don't make much money where I am, but I get every weekend off and plenty of vacation time so, overall, I think I'm happy here.


• United States
10 Dec 06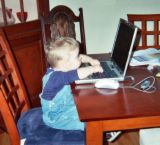 I love where I work. I work at home and I am comfortable. I sometimes wish that I could go out and work. I do get bored from being in the house all day sometimes but I like the fact that I dont travel too much. saves money as well.