what do you think about poeple sueing store's for saying merry christmas?

United States
December 10, 2006 8:17am CST
I think it is wrong I belive you should beable to say have a merry Christmas without worrying about being sued
7 responses

• United States
14 Dec 06
I think it shows we have way too many lawyers in this country with too much time on their hands.

• United States
14 Dec 06
Ah, the joys of living in a politically correct society. I think it's ridiculous and stupid. I don't celebrate Kwanzaa, but if someone wished me a Happy Kwanzaa, I wouldn't go all ballistic over it. I'd be thankful they were thoughtful. Whatever, maybe it's just me. People can just really get on my nerves.

• Canada
13 Dec 06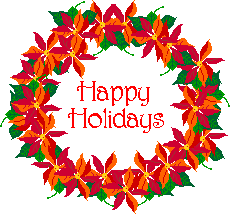 I don't understand why people feel the need to sue stores over this issue, either. Just because Christmas might not be your holiday does not mean you need to sue over someone wishing you well. I say this as someone who does not celebrate Christmas as their primary holiday. I don't take offence of someone says "Merry Christmas!" to me - I take it as a nice pleasantry and wish them a "Merry Christmas" or "Happy Holidays" back. It's simply being kind and polite to wish people well! As for the comment saying it's the "foreigners" who are causing this? Give me a break! Don't blame litigation on people who aren't even involved in the suing process. Blame the people who are starting the lawsuits! I think you'll find the vast majority of people doing the suing are NOT foreigners. Besides, not all people in your country who are actually born in your country celebrate Christmas. Just my 2 cents! ~Wyrdsister

• United States
13 Dec 06
I totally agree with you. But the reality is that we live in a very litigious society today, and sadly people are wasting the courts time with such frivilous cases.

• China
10 Dec 06
I agree.Just as some one say hello to you.Even the store want you to buy their product and get their profit.I feel good to hear some one say merry christams to me.If you do not like their product, you can ignore them.

• United States
10 Dec 06

I think that its dumb and that if your sueing stores then its obvious that they have nothing better to do then mess up peoples holidy. Thats cruel and petty and they need to go sit down somewhere.

• United Kingdom
17 Dec 06
Well they do here in the UK and why should they be sued What is happening to Christmas what is everyone doing to Christmas there is more and more being stopped for Christmas and the way things are going why not just scrap Christmas looks like it is dying of slowly anyway