Do you know all the names of Santa Claus?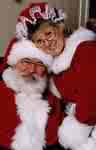 United States
December 10, 2006 4:33pm CST
I know some, you tell me yours and I will tell you mine til we seem to have them all.
1 response

• United States
10 Dec 06
Santa Claus, Saint Nicholas, Saint Nick, Father Christmas, Kris Kringle, Santy, Santa Klaus or simply Santa, Santa" in Afghanistan ("Baba Chaghaloo"), Albania ("Babadimri"), Armenia ("Gaghant Baba"), Brazil ("Papai Noel"), Bulgaria ("Dyado Koleda"), Chile (Viejo Pascuero), Denmark ("Julemanden"), Egypt ("Papa Noël"), Finland ("Joulupukki"), France and French Canada ("le Père Noël"), Germany ("Weihnachtsmann" or "Nikolaus"),Greece "????? ?as????-?yos Vasílis" Hungary ("Mikulás"), Iran ("Baba Noel"), Ireland ("Daidí na Nollaig"), Italy ("Babbo Natale"), Lithuania ("Kaledu Senelis"), Malta ("San Niklaw"), Norway ("Julenissen"), Portugal ("Pai Natal"), Romania ("Mos Craciun"), Russia ("Ded Moroz"), Scottish Highlands ("Daidaín na Nollaig"), Serbia and Bosnia and Herzegovina ("Deda Mraz"), South Africa ("Vader Kersfees"), Spain and some of Spanish-speaking Latin America ("Papá Noel" or "San Nicolás" ), Sweden ("Jultomten"), Turkey ("Noel Baba"), and the United Kingdom ("Father Christmas").