the beautiful city of Paris

Philippines
December 10, 2006 7:52pm CST
thus, Europe is I thinhk the most intiresting topic in History, particularly the Paris, I really dreamed of visiting the city after sometimes... they say that this is the most romantic place in the world..
2 responses

• Romania
11 Dec 06
your absolutly right.its the most romantic place in the world!!!i havent been there yet but i saw a lot of documentars about paris,pictures,movies...its awsame

• India
11 Dec 06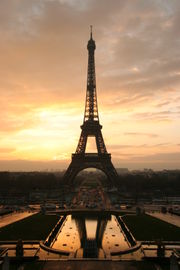 Paris is the capital city of France, situated on the banks of the river Seine in north-central France. The Paris urban area, extending well beyond the city boundaries, has today an estimated population of 9.93 million. Paris is a leading cultural, business and political centre and has an influence in fashion, gastronomy and the arts. It is regarded as one of the major global cities, with the headquarters of international organisations such as UNESCO, the OECD, the ICC, or the informal Paris Club. The symbol of Paris is the 324 metre (1,063 ft) Eiffel Tower on the banks of the Seine. It is also the most visited city in the world with more than 30 million foreign visitors per year. Paris's role as a centre of international trade and tourism has brought its transportation system many embellishments over the past centuries, and its development is still progressing at a rapid pace today. Only in the past few decades Paris has become the center of an autoroute system, high-speed train network and, through its two major airports, a hub of international air travel.