how many of you know god JEISUS?

India
December 11, 2006 2:23am CST
how many of you know god JEISUS?i know.
2 responses


• India
11 Dec 06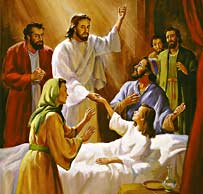 Jesus was born a Palestine Jew. He was born of Mary and Joseph at Bethlehem without impregnation and out of immaculate conception. He was meek and humble. He remained as innocent as a child throughout his life. He was tolerant, kind and merciful. He was a Yogi of the East though he preached in Palestine. Jesus welcomed and embraced the sinners, the despised and the harlots and purified them. He comforted them and gave them solace and peace. He raised the fallen. He brought relief and rest to the broken-hearted. Jesus said: "Unless you become as little children, you shall in no wise enter the Kingdom of God". To Jesus, God was a loving Father. Jesus' watchword was love for God and fellowmen. "Have faith in God. The Lord is our God. Thou shalt love the Lord with all thy heart and all thy soul, and all thy mind, and all thy strength. Thou shalt love thy neighbour as thyself. The love of God manifests in the love of man." This is the central teaching of Jesus. we all love God Jesus. God bless u, marry christmas....