Do you like the fireplace?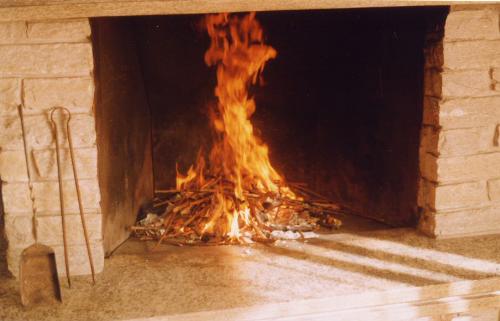 Italy
December 11, 2006 9:05am CST
I love to be in front of the fireplace and to cook food on the carbons.
6 responses

• United States
11 Dec 06
I like the fireplace too!

• Italy
11 Dec 06
\\\\\\\\\\\\\\\\\\\\\\\\\\\\\\ Thanks For Reply. Have a nice day. Bye. \\\\\\\\\\\\\\\\\\\\\\\\\\\\\\\

• India
12 Dec 06
I also definitely would like to be infront of fire place. But since I am living on a farm in a bit smaller house I don't have this facility. Instead of fire place we use a gas heater. This is a heater fixed on a small LPG gas cylinder. The heater consisits of a reflector resembling the shape of dish antenna and at its centre we have a metallic mantle. When it is ignited the gas is gushed inside the mantle and turns it red hot and then the reflector reflects the heat, they say this heater as a room heater. But with the intensity of the cold what we are having at our place we use each heater as an individual fire place. This heater is very portable and comfortable and very nice at providing the desired warmth ! This is our mdern fire place !

• Italy
12 Dec 06
\\\\\\\\\\\\\\\\\\\\\\\\\\\\\\ Thanks For Reply. Have a nice day. Bye. \\\\\\\\\\\\\\\\\\\\\\\\\\\\\\\

• Hong Kong
11 Dec 06
I wish I had a fireplace in my apartment,I live in Hong Kong,the apartment is really tiny.and fireplace isn't very common here.we use heater.

• Italy
12 Dec 06
\\\\\\\\\\\\\\\\\\\\\\\\\\\\\\ Thanks For Reply. Have a nice day. Bye. \\\\\\\\\\\\\\\\\\\\\\\\\\\\\\\


• Italy
11 Dec 06
\\\\\\\\\\\\\\\\\\\\\\\\\\\\\\ yes, very beautiful Thanks For Reply. Have a nice day. Bye. \\\\\\\\\\\\\\\\\\\\\\\\\\\\\\\


• Italy
11 Dec 06
\\\\\\\\\\\\\\\\\\\\\\\\\\\\\\ him very romantic Thanks For Reply. Have a nice day. Bye. \\\\\\\\\\\\\\\\\\\\\\\\\\\\\\\


• Italy
11 Dec 06
\\\\\\\\\\\\\\\\\\\\\\\\\\\\\\ possession is beautiful a hearth, I recommend you to do him/it if it is possible in your house. Thanks For Reply. Have a nice day. Bye. \\\\\\\\\\\\\\\\\\\\\\\\\\\\\\\