Is Flirting Cheating?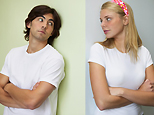 India
December 12, 2006 9:13am CST
What's the Difference Between Flirting and Cheating? What seems harmless to you may not fly with your partner. Can couple recover from cheating? Try to resolve the relationships here.....
2 responses

• United States
12 Dec 06
If both parties know you are already attached & just flirt for fun with friends, there is noting wrong with that, as long as everyone is okay with it. If you flirt with people you don't know, then say....oh, only kidding, I am married, that is bad, & will bite you in the butt at some point!

• United States
14 Dec 06
I think if you flirt and doesn't get anywhere beyond that, then it's not cheating at all. But, some people just don't know when to stop flirting and that sometimes lead to cheating.