Cure for Obesity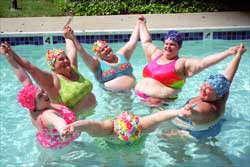 India
December 12, 2006 8:11pm CST
Obesity is the biggest problem for most of the people all round the world. Many were not interested or unable to do some devastating exercises to reduce their weight.... They want to be slim but they dont want to do hard workouts.... Do u have any suggestions for reducing weights.....
3 responses

• India
13 Dec 06
Obesity.. humm.. I can give u many solutions.. Walikin is a good soln.. it increases blood circulation.. reduces calories.. but not much.. Exercising is one of the soln.. do exercises tat will make u tired soon.. practise at gym rather than at home.. u can see a betta reduce in weight.. Dancing is another soln.. when u dance, ur calories get exhausted more.. calories of 48-56 k can get burnt on how u dance.. but, some may xpect to reduce weight without puttin effort.. for them , i hav a good soln.. mix a spoon of honey in boiled warm water and drink two times a day.. it is a very gud soln.. try it!!

• United States
13 Dec 06
First,you have to watch what you eat.Thats hard for me because I'm agood cook and I love to eat!Second,you have to find an exercise program thats right for you,because everybody is different.I've always worked hard, but been lazy about exercise.Then I bought a Tony Little Gazelle exercise machine.I love it.It's not hard at all,but you really burn some calories fast,and it doesn't hurt your body,it's very low impact.

• United States
13 Dec 06
The easiest and simplest way to lose some weight is to do some walking every day. Unfortunately people don't want to bother. They want to sit on the sofa and wait for some miracle "cure" that will lose the weight for them. All it takes is recognition that you can't get away without exercising and there wouldn't be an obesity problem.