Your favorite pizza!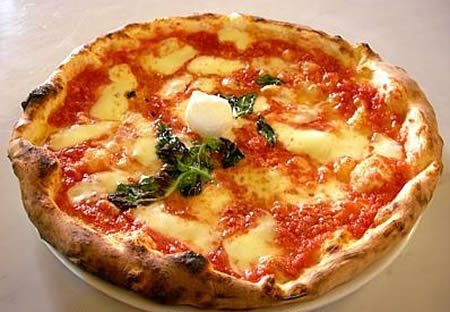 Italy
December 13, 2006 3:26am CST
Pizza is probably the food I love most. What is considered the "real" Italian pizza exhists only "alla marinara" (that is only with tomato sauce and garlic) and "alla margherita" (that is with mozzarella, tomato sauce and some basil). But we all know that there exist so many different ones in the menus and at so many places you can put together your own favorite... My absolute favorite at the moment is with tomato sauces, mozzarella, pepperoni, sausage. And yours?
7 responses


• Pakistan
13 Dec 06
I usually eat stuffed Crust. Its great. Stuffed Crust can come with any typer of Pizza. The crust is filled with cheese so its very great

• Italy
17 May 07
Wow.... what a tasty discussion.... :) I LOVE pizza.... Yesterday night I came back home very late and I found a beautiful Margherita (pizza with mozzarella, tomato sauce and some basil) waiting for my belly.... Uhm.... I was so happy to find such a dish on my table.... Well, I'm vegetarian, so I eat only pizzas without meat and fish. I love "vegetarian pizza" or "ortolana". When I go to Sicily I eat the "Norma", it's a particular pizza that only in Sicily you can eat because the most important ingredient is the "ricotta infornata" a typical Sicilian kind of cheese that you can find only in Sicily.

• Italy
18 Jan 07
\\\\\\\\\\\\\\\\\\\\\\\\\\\\\\ My favorite pizza is vesuvio what a pizza is done with two pastas, with of everything inside a true bomb Have a nice day. Bye. \\\\\\\\\\\\\\\\\\\\\\\\\\\\\\\


• United States
13 Dec 06
I like lots of different types of pizza. My favorite is probably either green peppers, mushrooms, olives, tomatoes, and onions with mozzarella cheese or pepperoni and black olives with provel cheese. I like thick crust and thin crust. I also really like Chicago-pie style pizza. Especially the sausage one from Gino's East!