Child Labour.How it can be uprooted?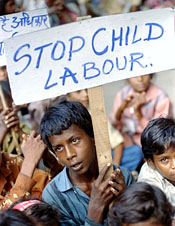 India
December 13, 2006 4:22am CST
Would it be possible to Remove this social evil by Imposing sanctions or LAW?I think it would not be possible as we see children in and Around us who are willing to work than study.What would be the better means to curb this
3 responses

• India
16 Feb 07
By educating the child's parents.Child labor is a big problem and is a global problem mind you.So all coutries should sit together and think what can be done.

• India
22 Dec 06
Child labour should never be encouraged as they are the future . Children should be encouraged to educate themselves ,do things of their interest by constantly guiding them. By doing so their thinking will be broadend,they will cultivate a habit of healthy thinking .The government should take neccessary actions to stop child labour. They should give free education to the children below the poverty line & the parents too should send their children to school regularly.

• India
21 Dec 06

I think the root of the hild labour lies in the poverty of their parents.So it would b efficient to give these people good jobs in Rojgar Hami Yojna .thhis will help in their economic status and the child will not b encouraged 4 doing such work instead of study.