is there any way to reduce your feet size?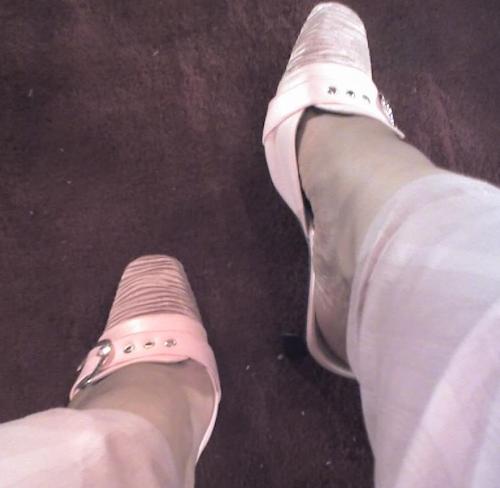 Pakistan
December 13, 2006 3:32pm CST
does anybody know how to reduce the size of such big ape like feet? this is somthing much more embarassing than being Obese:( that is when u enter a shop n shop keeper looks at ur feet n says...oh :O sorry madam yours is the box size not available anywhere...how does it feel..i know so humiliated...can anyone help?
9 responses

• France
13 Dec 06
Afraid you are stuck with the size you are now. There are shoe shops that cater for larger sizes,but often they deal in mail order only. I'm a UK 8 (a 42) so teh top of the normal UK sizing, and I have trouble getting comfortable shoes that are pretty, they seem tojust stretch a size 6 rather than scaling them up often, but my mother in law takes a size 10 and they just don't make many ladies shes in that size. You get used to it after a while, better to be in proportion to the rest of your frame.


• Pakistan
19 Dec 06
hey u mean feet size depends on height n weight??


• United States
1 Jan 12
I've heard of people bonding their feet, but that can cause foot problems. Also, I think that's also for kids whose feet haven't reached their maximum foot length. There is apparently a surgery where you can have your toes shortened. I don't know if that would help you much though. I would imagine you might only reduce your shoe size by 1/2 a size, maybe even 1?

• Australia
11 Feb 07
I don't think there is a way. It would be hard even with the help of technologies nowadays. I think it is almost impossible. Are you a filipino? this statements I usually here on shopping mall too. I have a big feet as well. Sometimes it is an advantage though for wwomen who have larger feet when it comes to sale because the larger sizes tends to be on sale all the time. All at least the last pair has a lower price and you get discount for it.

•
1 Feb 07
i dont think there is any way of reducing your shoe size im afraid. although my mum does claim she goes down a size when she looses weight! try shopping at shops/websites dedicated to people with a larger size. the only option is plastic surgery where they break your toes! doesnt sound pleasant lol