Olive Oil or Vegetable Oil~ Which DO YOU USE??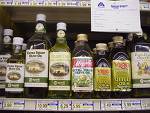 United States
6 responses


• United States
15 Dec 06
I use vegetable oil. never olive oil. what is the difference, Olive oil is probaly healthier I don't know. why do you us olive oil? that say olive oil is good for your hair and skin. I believe that.



• Scottsdale, Arizona
15 Dec 06
i personaly prefer olive oil and use it.i think it is very good to use olive oils but veg oil is also good,as far as i know.which 1 do you use?