i love him 2! who wouldn't?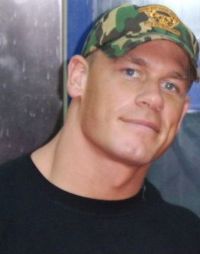 Philippines
December 15, 2006 1:40am CST
Cena successfully defended his WWE Championship in an Elimination Chamber at the January New Years Revolution to kick off 2006. After the match, however, Vince McMahon appeared on the stage and announced that Cena was going to have to defend the title again, this time against Edge, who was cashing in his previously earned Money in the Bank title shot. Edge delivered two spears to a battered, bloody, and exhausted Cena, pinning him in short order to win the WWE Championship. Cena's championship reign ended at 280 days, matching that of previous champion JBL. Three weeks, to the day, after losing the title Cena defeated Edge at the Royal Rumble to regain the WWE Championship. During this time WWE announcers, most notably Jim Ross, were forced to acknowledge the negative reactions Cena was getting and began to refer to him as a "controversial champion" saying that he was alienating some fans with his "unorthodox style". Jerry Lawler would often suggest that Cena was too young, "edgy" and original for the older audience to appreciate. Cena continued to polarize crowds leading up to WrestleMania 22, during which he was soundly jeered during his main event win over Triple H. Despite Triple H's best attempts to get heat, the crowd continued to favor him over Cena. Vince McMahon was reportedly upset by fans' negativity, though Cena stated that the fans "obviously had a choice in deciding whom they wanted to root for". The crowd began to cheer Cena once again after April's Backlash, most notably when he began to side with the popular Shawn Michaels in matches against the Spirit Squad. After Cena stopped taking part in this angle and moved on to working against Rob Van Dam there was once again a notable mixture of cheers and boos in most arena's he visited, with some being more pro-Cena and some more against him. On the May 22nd edition of RAW, Rob Van Dam informed Cena that he intended to cash in the Money in the Bank title match contract he won at WrestleMania at the upcoming Extreme Championship Wrestling One Night Stand pay-per-view event. The event saw Cena get his most negative reaction yet from the very pro-ECW crowd, including profanity-laced chants and anti-Cena signs (most memorably one reading, "If Cena wins, we riot," which has been used since then, with different names in place of Cena's). Cena was visably affected, and tried to use moves outside of his usual moveset in order to play to the crowd. The crowd responded with "You still suck". Cena lost the title at the event when Edge appeared from under the ring and speared Cena through a table, setting him up for Van Dam's Five Star Frog Splash. With two referees "knocked out" (the first by Cena, the second by Edge) Paul Heyman ran down the entrance aisle and counted the three count, giving Van Dam the win and his first World Title. On the next nights RAW Paul Heyman announced that the title change was official, as the match was under "Extreme rules". Coincidently, both of his WWE Championship losses in 2006 were as a result of the Money in the Bank title contract.
1 response

• India
28 Dec 06
Cena is definitely the best among all the wwe superstars. what i like about him best is his attitude and his rapsta' ways. his matches too are very good and his moves are quite interesting. he also insults his opponents very well. at the elimination chamber, what edge did is a bit of cheating and oppurtunism and nothing else.