Did anyone has blood donation experience before?

Hong Kong
December 16, 2006 6:28am CST
Did anyone has donate your blood before? How do you feel on this experience? I feel very good in saving people and especially their life. Let's share your experience! Thx.
1 response

• Philippines
16 Dec 06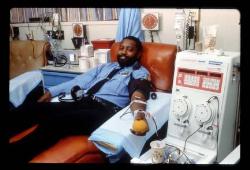 I have not yet but am planning to. The benefits of it is as you say it saves lives and the other benefit is you'll be able to replace some of your old blood with new ones. In a span of weeks your body starts to produce new blood cells thereby replacing the old ones. You'll eventually feel the difference because the new blood cells are more functional, feeling rejuvinated and more efficient.

• Hong Kong
16 Dec 06
Totally agree with you and hope you not just planning and take action asap. Thank you for your response.